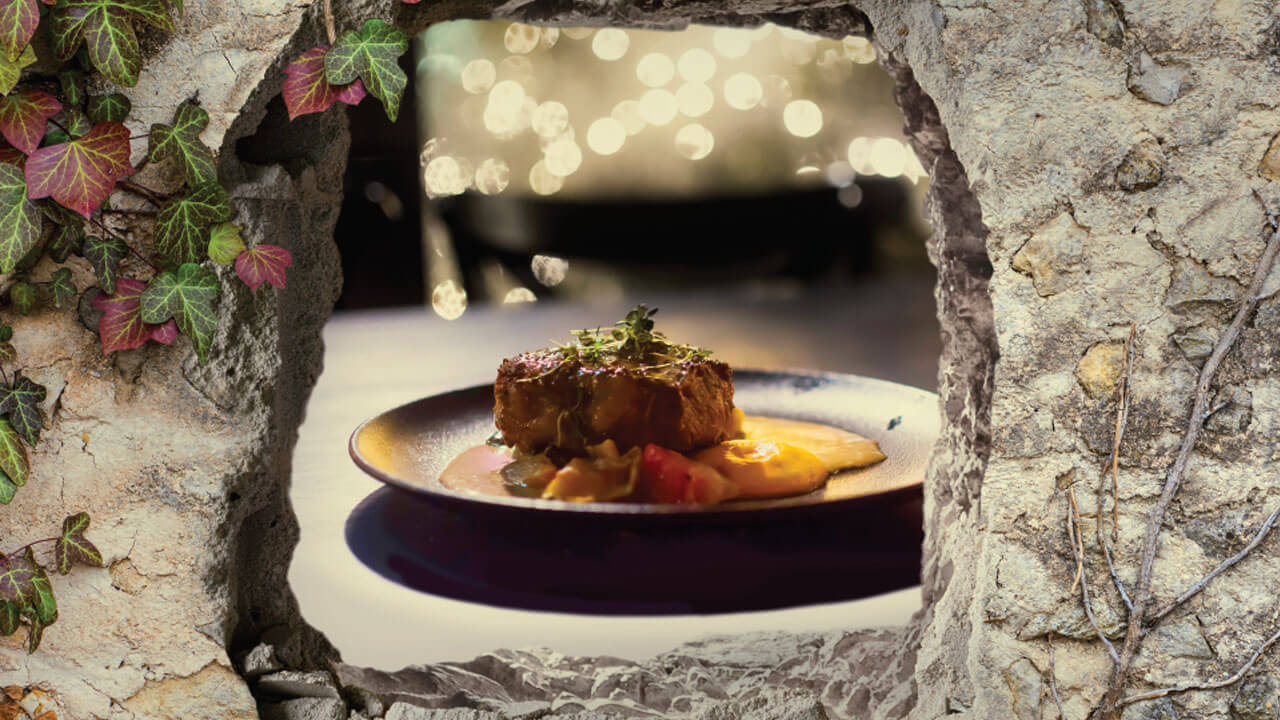 MAY MONTH OF DINING
Hidden in Plain Sight
No matter how many times you've been to The Rocks, Sydney's iconic dining precinct, every visit reveals a fresh surprise.
Behind heritage sandstone, and hidden down unexpected laneways, you'll discover more than fifty cafes, bars and restaurants, humming to a surprisingly modern beat. Around every street corner global spices simmer, stairways lead you to underground whiskey bars, and fine dining is served inside old prison cells. So this May, enjoy The Rocks showcasing its concealed treasures in a month-long celebration of food and drink. You'll find it's all right here in front of you, hidden in plain sight.
Introducing The Rocks Progressive Dinner
The Rocks Progressive Dinner experience includes a cleverly curated 4-course menu with each course enjoyed at a different location within The Rocks.
Between meals, you'll explore The Rocks with a personal guide helping you find the next location - and revealing hidden gems along the way. 
Due to overwhelming demand we have released additional dinner for the 19th and 26th May. 
Get in fast as there are limited spots for this one-off experience and bookings are essential. 
The Rocks Markets - Friday Edition
To celebrate the best time of the week (and make it even better), The Rocks Markets will open every Friday Night from 4pm to 9pm from 7 May.

Knock off and start your weekend early in Sydney's oldest and most charming precinct, with fairy lights hanging overhead, boutique shopping, live music from local artists and, of course, scrumptious food and treats.

This is Sydney culture at its finest, with a focus on supporting smaller local chefs, makers and creatives and a bustling, electric energy that feels like Friday night should. What are you waiting for? It's already the weekend with Friday Night Markets in The Rocks.
Speakeasy pop-up bar - 151
Head down Mill Lane late in the evening and, along the cobblestone road amidst the shadows, you may discover a secret. There's a door here that can only be found by those who know, and behind it there's a speakeasy bar hidden in plain sight.
The bar is here for a good time, not a long time, and will disappear shortly - so make sure you discover it soon. 
Once you enter, you'll find a hidden den complete with concierge, velvet drapes, vintage furniture and a convivial atmosphere - just like the good ol' days. Stay a while and grab a can of local craft beer, a crafted cocktail or choose from a selection of premium whiskeys, wines and champagnes. 
If you work up an appetite bending your elbow, there's moreish late night bar snacks on offer, from burgers and sliders to tacos and toasties. 
International Burger Day
Friday 28 - Sunday 30 May
Burgers are the ultimate feel-good comfort food. There's nothing better than lightly toasted buns, American cheese dripping over a juicy mince patty and tangy pickles cutting through it all.
In honour of this glorious food, The Rocks is celebrating International Burger Day - an entire 24 hours (plus the weekend for good measure) dedicated to burgs of all shapes and sizes. To mark this momentous occasion, the best burger joints and bars in The Rocks are creating special one-off burgers guaranteed to push boundaries and blow your mind. Check out the menu below, burger lovers!

American Express delicious. Month Out Offers
What's better than delicious food? Discounted delicious food of course! That's the idea behind American Express delicious. Month Out offers available to everyone (not just AMEX card holders) all over The Rocks this May.
Some of Sydney's most delicious eateries, bars and cafes are taking part, offering special menu items at one-off low prices. From sushi masterclasses to French crepes, these are the best of the AMEX delicious. offers.
Sculpture Rocks
Stroll, Sculpture and Sip...
The Rocks is to be transformed by an exhibition of 17 beautiful sculptures by Japanese artists as a part of Sculpture Rocks - a free outdoor exhibition presented by the creative geniuses behind Bondi's popular Sculpture by the Sea.
The exhibit will take place along the Sydney Harbour foreshore from the Overseas Passenger Terminal along Campbells Cove to the Park Hyatt.
Never miss out on events
Get updates on the latest events from The Rocks.