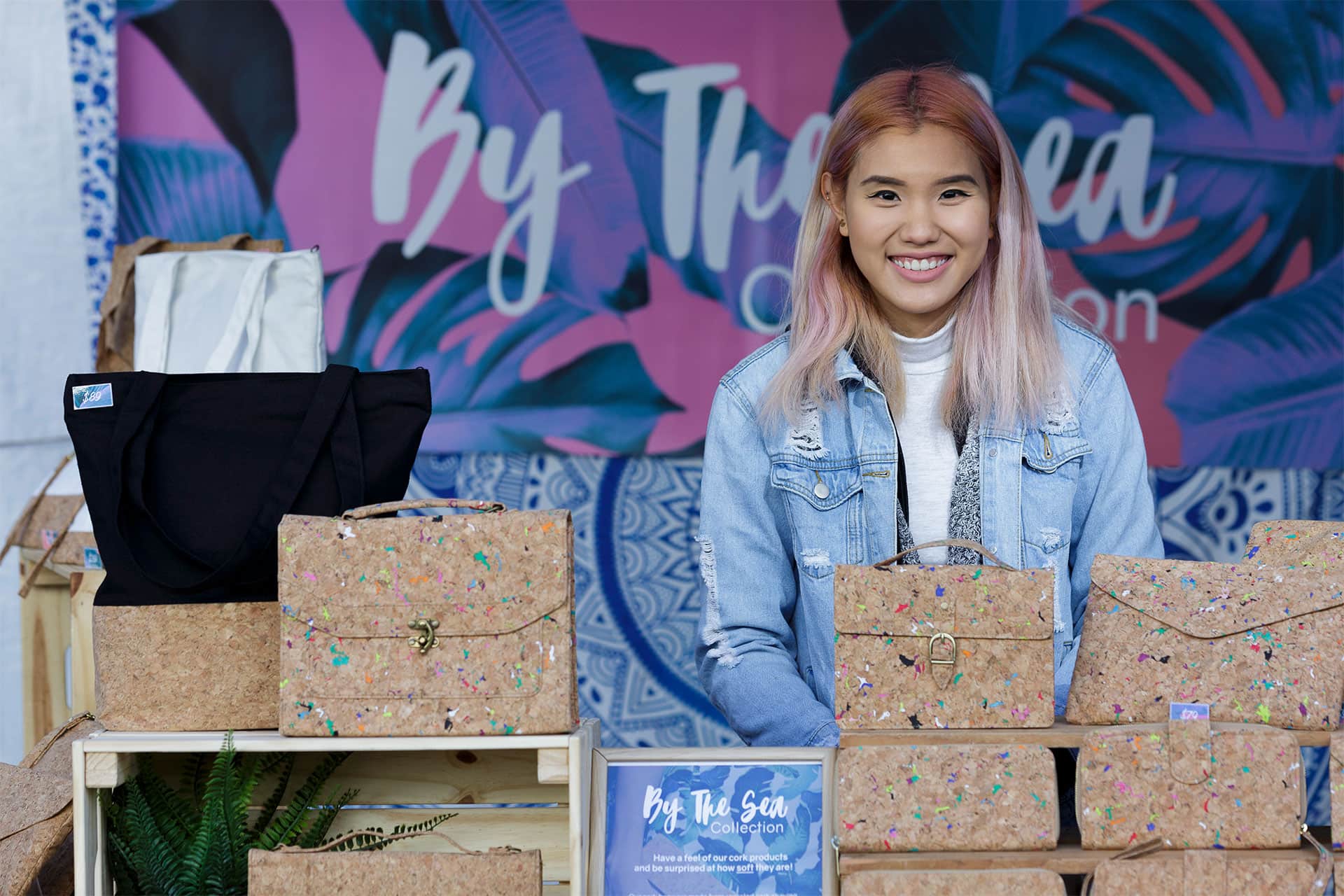 Lovingly Crafted
Markets Online
Take a trip to the markets from the sanctuary of your home. Our artisan stallholders await you online.
There is nothing more important than the health of our community, our sellers and our visitors, so The Rocks Markets have closed for now. A true makers' market, for years The Rocks Markets has brought talented and experienced artisans to the heart of The Rocks each weekend — and now we're bringing them straight to you, every day of the week.
We will be back, but until then, you can continue to support our talented local makers directly via their online stores.
Even in this anxious time, we believe that joy can be found indoors. Whether that means pretty prints to decorate your space, scented soaps for a de-stressing soak, or eco-friendly items to help keep things nice and green, our stallholders are still here to share it with you. Bring beauty and comfort to your space with handcrafted homewares and gorgeous textiles. Make your walls sing with vibrant local art – the perfect backdrop for a video chat. Allow yourself some much-needed relaxation with essential oils and aromatherapy, freshly scented candles, organic herbal teas and natural body and skincare. And chocolate. Now is the time for chocolate.
From our fashion designers, find classic lines, contemporary silhouettes, brightly coloured palettes and monochrome masterpieces — because looking good feels good, too. Spark a little bit of joy with a little bit of sparkle from our talented jewellery designers, who work across precious metals, gorgeous gems, funky polymers and more.
We truly cannot wait to welcome you back, and we'll let you know when we'll be returning as soon as we can. Until then, please stay safe and be well.

We'll see you when we see you, whenever that may be.
Our Markets, Online
Our artisan makers are open for business online; browse their stores below.
Shop Online
Commonly asked questions about how to shop The Rocks Markets Online.
It's pretty easy! We've gathered many of our Markets stallholders with online shopping platforms (and will keep adding more weekly) into one directory for you. You can browse the stalls by alphabetical order, or filter by product category to find the kind of stalls you want to look at. But we think it's fun to visit them all, like online window shopping!

Simply click into a listing and navigate to 'Visit website' – it will open in a new tab connecting you to the stallholder's online shop. You can then browse their site and shop as you would on any online shop.
You are shopping on the stallholder's own site – we're just helping you to get there. Think of it like our site is the shopping mall, and each stallholder's listing is a shop inside that mall. This means all questions or issues must go directly to that stallholder, rather than to us.
Each stallholder will have their own policies, so please contact them individually if you have any questions.
Some stallholders may not have an online shop, so are selling products via their social media channels or other online platforms. It's a pretty creative way to stay open even while the markets are closed!
You will need a Facebook or Instagram account to shop via their social channels. But if that poses a problem for you, please email us at
therocksmarkets@property.nsw.gov.au
and we can forward your inquiry directly onto the stallholder.
Contact the stallholder you're shopping with via their social channels or the contact details listed on our website. If you are still not able to contact the stallholders, please email us at
therocksmarkets@property.nsw.gov.au
and we can forward your inquiry directly onto the stallholder.