New Year's Eve at The Rocks FAQ
Frequently asked questions about New Year's Eve in The Rocks.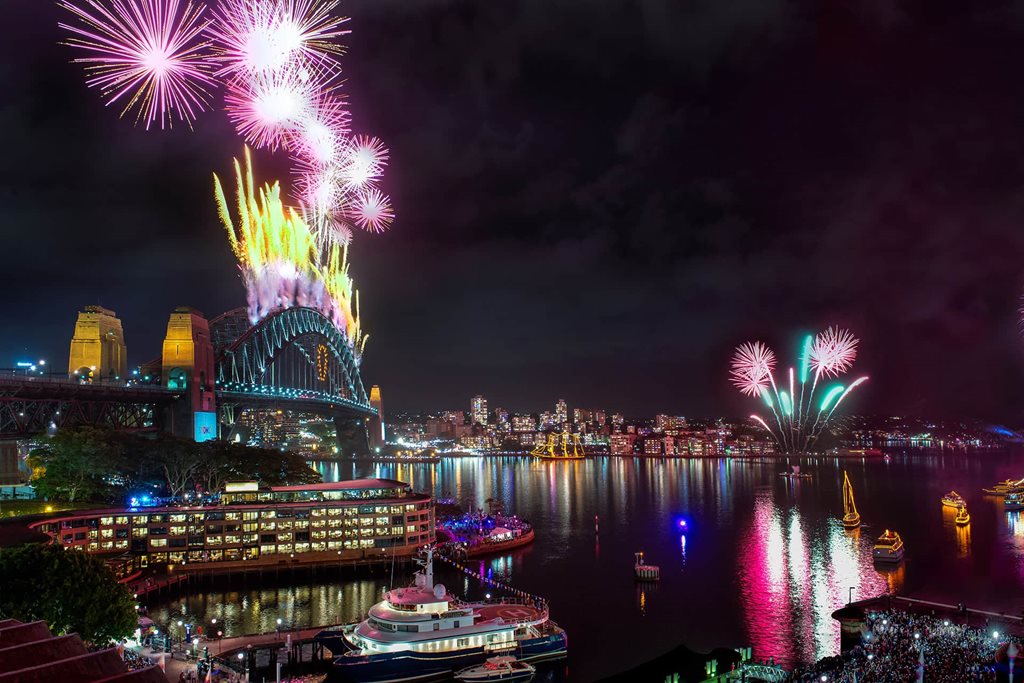 Frequently asked questions
Commonly asked questions about NYE here at The Rocks 
It is expected tickets will sell out in advance, with no tickets available on the night. Booking early is recommended to avoid disappointment. 
Due to public health orders, tickets are limited as this assists in managing crowds. Get in early!
Yes, there is a limit of 5 tickets per transaction. The purchase of tickets at multiple venues in any transaction is not permitted. 
Tickets may not be resold or reissued other than in accordance with NSW Fair Trading Act 1987.
Campbell's Cove is an accessible area. 
Enter from Circular Quay West (via George St)
Accessible area located on the south-western side of Campbell's Cove.
Accessible patrons and up to 4 Family Members
2 x Accessible Toilets
No shade, bring a hat, sun screen, refillable water bottle and rain jacket
Water refill stations location throughout the site
Security and first aid available on site
No seating available. Bring your own rugs, blankets and low folding chairs if required.
For any accessibility questions, please contact Karen Wade (02) 9228 4613
No. Cloaking services and/or lockers are not available. 
No. Umbrellas over 50cm in length, tarps, tents, shade structures, tables, milk crates or chairs (other than low line beach chairs) are not allowed. All umbrellas should be lowered during the fireworks to enable clear views for other patrons. There shall be no pegging or other penetration to the turfed areas. 
Due to extensive road closures and high pedestrian traffic in the city, public transport is the easiest option to get to the event. There are additional trains, bus, light rail and ferry services available and transport hubs are within easy reach of this site. 
The closest train stations are: 
Wynyard Station 

Circular Quay Station 
It is recommended that you check your transport details at transportnsw.info or by calling 131 500 before travelling. 
For all the information specific to the above events, please follow our Twitter and / or Facebook on the night to keep up to date. 
There are no ATM facilities on site. We recommend you bring cash. We cannot guarantee consistent operation of vendor's eftpos facilities during the event.
Please consider the safety of other patrons. All patrons entering the site will be subject to a security bag check and must show valid identification and tickets. Restricted items will be confiscated and entry refused to any persons not complying with conditions of entry. 
The following items will not be allowed to be brought into the event site: 
No BYO beverages including alcohol and water (soft water bottles allowed) 

No glass 

No sparklers, party poppers or candles 

No large umbrellas or other shades structures 

For further conditions, refer to the Terms and conditions 
Hickson Road Reserve
Access to the spectacular harbourside location – this is the only premium vantage point for NYE

Food available for purchase on site 

Live entertainment 
Campbells Cove 
Access to the spectacular harbourside location Campbells Cove on NYE 

Food available for purchase on site 
Dawes Point Park
Food available for purchase on site 

Live entertainment 
West Circular Quay
This site has roving entertainment and the closest vantage point to Circular Quay making it an easy access to transport in and out of the site.
Wharf 2
This vantage point has direct sightlines to the Sydney Harbour Bridge
This is the closest vantage point to Circular Quay making it an easy access to transport in and out of the site.
East Circular Quay
This is a vantage point has direct sightlines to the Sydney Harbour Bridge
All vantage points are alcohol free zones.
Before attending the event, you may like to visit one of the many bars and pubs in The Rocks. See who is open here
Beverages brought to any vantage point will be confiscated at the bag check. Place Management NSW reserves the right to confiscate any restricted items and/or refuse entry to any persons not complying with Conditions of Entry.
Hickson Road Reserve and Dawes Point will have a low level entertainment program throughout the night.
Some roving entertainment will be present around Circular Quay.
There are two fireworks displays on New Year's Eve – at
 9pm - site access closes at 8.50pm
Midnight - site access closed at 11pm. 
Some views of the fireworks from these sites are partially restricted.
Refunds will be available until 17 December, 2021
This is an outdoor event which will proceed in all weather. Fireworks are presented by City of Sydney. In the event that the fireworks are cancelled, Place Management NSW will not be held responsible or provide compensation. 
Every person requires a ticket.
Infants and children 3 years and under are free however require a ticket.