Event
Richard Bell's Embassy
Be a part of the conversation when you visit Richard Bell's immersive work Embassy (2013-ongoing).
Embassy (2013–ongoing) by artist Richard Bell is both an installation and an invitation to participate in meaningful conversations that pay homage to the Aboriginal Tent Embassy, the world's longest-running protest occupation assembled in 1972 by activists on the lawn of Parliament House.
Presented as part of the major survey exhibition Richard Bell: You Can Go Now, Embassy will create a public space for retelling stories of oppression and displacement and imagining a future in which Aboriginal people are leaders in a truly equal society.
Throughout the exhibition, Embassy will present a program of talks, workshops, performances and film screenings that critique and discuss some of the most pressing cultural issues in contemporary society. Listen and interact with artists, academics, and community representatives as they give voice to the cause.
Audiences can join each event either on-site at the MCA or online via our Digital Embassy.
Guest speakers: 5 June
Ghillar Michael Anderson
Ghillar Michael Anderson was born in the township of Brewarrina in northwest NSW into a state-controlled family. He is an Aboriginal activist with a long career in defending people's rights. From 1969 he was a leader in the Australian Black Power movement. His peers appointed him as the first Aboriginal ambassador to white Australia after he and three comrades established the Aboriginal Tent Embassy on the front lawn of parliament house in 1972.
Jenny Munro
Jenny Munro is a Wiradjuri elder and a prominent activist for the rights of Indigenous Australians. She has been at the forefront of the fight for Aboriginal housing at The Block in Sydney and started the Redfern Aboriginal Tent Embassy. Jenny is the sister of the late Aboriginal activist Isabel Coe. She is an active member of the Waterloo Public Housing Action Group.
Bronwyn Penrith
Bronwyn Penrith is a Wiradjuri woman from NSW. Based in the Redfern community, she has been a part of several important activist campaigns, including the Aboriginal Tent Embassy in Canberra in 1972. Bronwyn is the Chairperson of Mudgin-Gal Aboriginal Women's Corporation and a co-founder of the Aboriginal Justice Group (Redfern/Waterloo).
Full program and additional dates to be announced shortly. Additional tickets to be released shortly.
About the artist
Richard Bell was born in 1953 in Charleville, Queensland. The artist lives and works in Brisbane. Kamilaroi, Kooma, Jiman and Gurang Gurang peoples. Richard is a member of the Kamilaroi, Kooma, Jiman and Gurang Gurang communities. An activist and artist, Bell works across video, painting, installation, and text to pose provocative, complex and humorous challenges to the positioning of Aboriginal art and cultural material within a western canon of art and addressing contemporary debates around identity, place and politics.
COVID-19 update
The health and safety of visitors and staff is our main priority at the MCA. We are following government guidelines with regard to COVID-19 to ensure our visitors and staff are safe at all times and follow social distancing guidelines. Please read our visitor safety information for more details. Following the latest recommendations of NSW Health, visitors (12 years and older) must register on entry.
Cancellation or refunds
If you are feeling unwell or have been in contact with someone that has tested positive for COVID-19 or have tested positive yourself, please get in touch with us to reschedule your ticket or arrange a refund.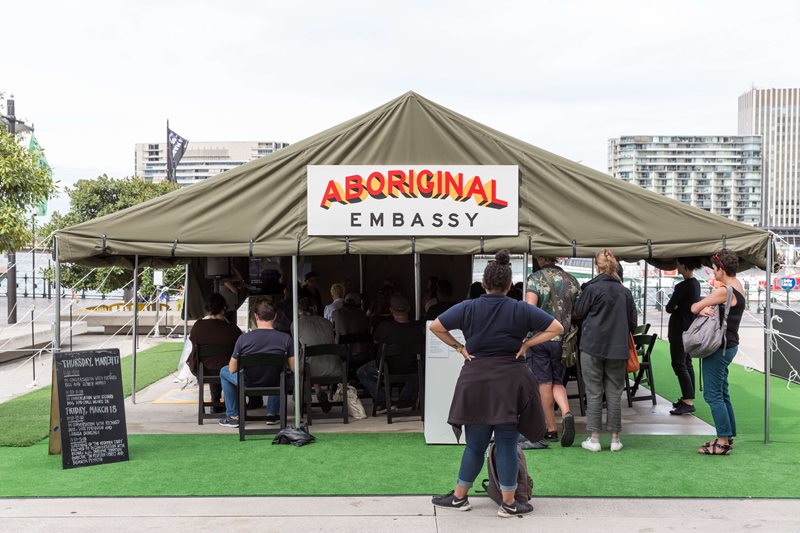 When
5 June, 26 June, 17 July,
1.30–3pm
27 August,
6.30–8pm