You can't miss it
Getting here
It's easy to get to The Rocks. Nestled in the heart of Sydney, The Rocks is spectacularly placed on Sydney's sparkling Harbour with views of the Harbour Bridge. We're only a two minute walk from Circular Quay train station, bus stops, ferry wharves and light rail offering quick and easy access to Sydney's historic district.
A hop, skip and jump from Sydney's CBD
For those just north of the bridge, take a nice scenic stroll across the Sydney Harbour Bridge and find yourself in The Rocks in no time. Coming from Wynyard Station? Jump on the train or light rail to Circular Quay, or simply take a 10 minute walk from Wynyard down George Street and get a little extra fresh air. The Rocks extends from the harbour in the north and east, to Kent Street in the west, and Grosvenor Street in the south.
Take the train to Circular Quay, head in the direction of Sydney Harbour Bridge, and you're only a stroll away. If you're coming from Wynyard station, walk north down George Street towards the harbour and you'll be here in 10 minutes. 

Plan your trip
For buses travelling through the CBD along Elizabeth Street, get off the bus at Bridge Street and head north to The Rocks. Bus stops are also located along Alfred Street.

Plan your trip
Catch a ferry to Circular Quay and you're only a short stroll away from the heart of The Rocks. 

Plan your trip
Sydney's light rail is a great way to travel to The Rocks.
The L2 Randwick and L3 Kingsford light rail services run between Circular Quay and Randwick and Circular Quay and Kingsford. Both lines travel via George Street, Central Station and along Devonshire Street in Surry Hills up to Moore Park.
High frequency services mean you can just turn up and go!
Plan your trip
The Rocks is an easy 2-minute walk from Circular Quay or 10-minutes from Wynyard station. The main entry point to The Rocks is via George Street. If you're walking from Darling Harbour, you can take Hickson Road via Walsh Bay, or Kent and Argyle streets through Millers Point.
The Rocks is easily accessible by bicycle. Several bike racks are located around the perimeter of the precinct. 
See our bike rack locations below: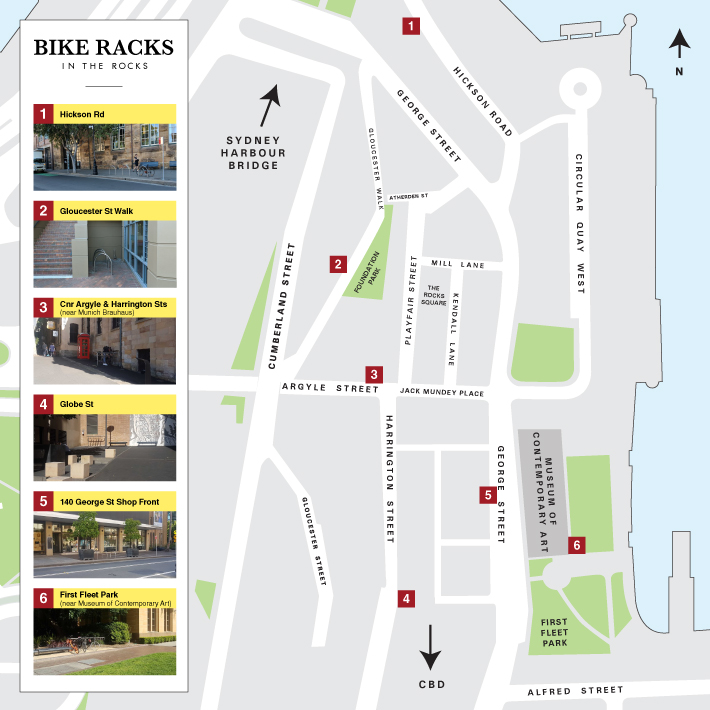 The Overseas Passenger Terminal is a dedicated cruise passenger terminal, where cruise liners arrive and depart right on the harbour near Sydney city centre. 
With a wide range of public transport options available right at Circular Quay, cruising passengers are encouraged to use public transport when travelling to The Rocks to board their cruise.
It's never been easier to pick up and drop off people in The Rocks at three convenient kiss & ride locations:
George Street
two spaces near the corner of George and Atherden Streets
Harrington Street
two spaces near the corner of Harrington and Argyle Streets
five more spaces outside the Harbour Rocks Hotel.
You'll find taxi ranks on George Street near Playfair Street, on George Street at the Metcalfe Arcade, at the Overseas Passenger Terminal, and Alfred Street at Circular Quay.
Parking in The Rocks
Paid street parking is available in The Rocks on Harrington, Cumberland, Argyle, Essex and Gloucester Street. 
We encourage you to check parking signs and follow instructions as parking rates and time limit restrictions vary. 

​There are also a number of secure, conveniently-located parking stations in The Rocks:

Wilson Parking, Quay West
Wilson Parking, Clocktower
Wilson Parking, 155 George Street
How to pay for parking
You can pay for parking using the ticketless parking meters installed within The Rocks. 

You can also pay via the Park'npay mobile app. The app is an exciting NSW Government initiative which is being trialled in a small number of areas in Sydney, including The Rocks. 

Find out more about Park'npay

 
Motorcycle and scooter parking areas
Motorcycle and scooter riders don't need to pay at any of the parking meters in our local area.

Simply park as you usually would but remember to observe the time restrictions.
 
Electric vehicle parking areas 
Designated paid parking and charging station for electric vehicles are located on Argyle Street, near Harrington Street. Maximum stay up to four hours while charging.
 
Permits for residents 
Eligible residents can apply for a parking permit which exempts their vehicle from time limit restrictions and parking meter rates where the signage includes the words "permit holders excepted". Residents can apply for parking permits for area 16 through the City of Sydney website.
 
Special events 
Please note that certain events within the precinct may limit the availability of parking spaces within the precinct due to road closures or increased traffic.
 
Contact
Questions about parking? Contact us via email PMNSW@cbre.com.au or phone 1300 275 223.

 
The Rocks maps will help you locate major attractions, accommodation and places of interest.

The Rocks Map
This map provides information on attractions, museums, parks and gardens within The Rocks. The map also indicates the locations of parking stations, services (including public toilets and ATMs) and accommodation and transport options.

The Rocks Accessibility Map
This map provides information for those with a disability to access The Rocks. It shows accessible and non-accessible pathways, where to find parking, toilets, lifts and services such as ATMs, TTY telephones, taxis and bus stops.
The Rocks Transport Map
The Rocks is ideally located and provides connectivity to Sydney's public transport network this map outlines the many travel choices available to you.