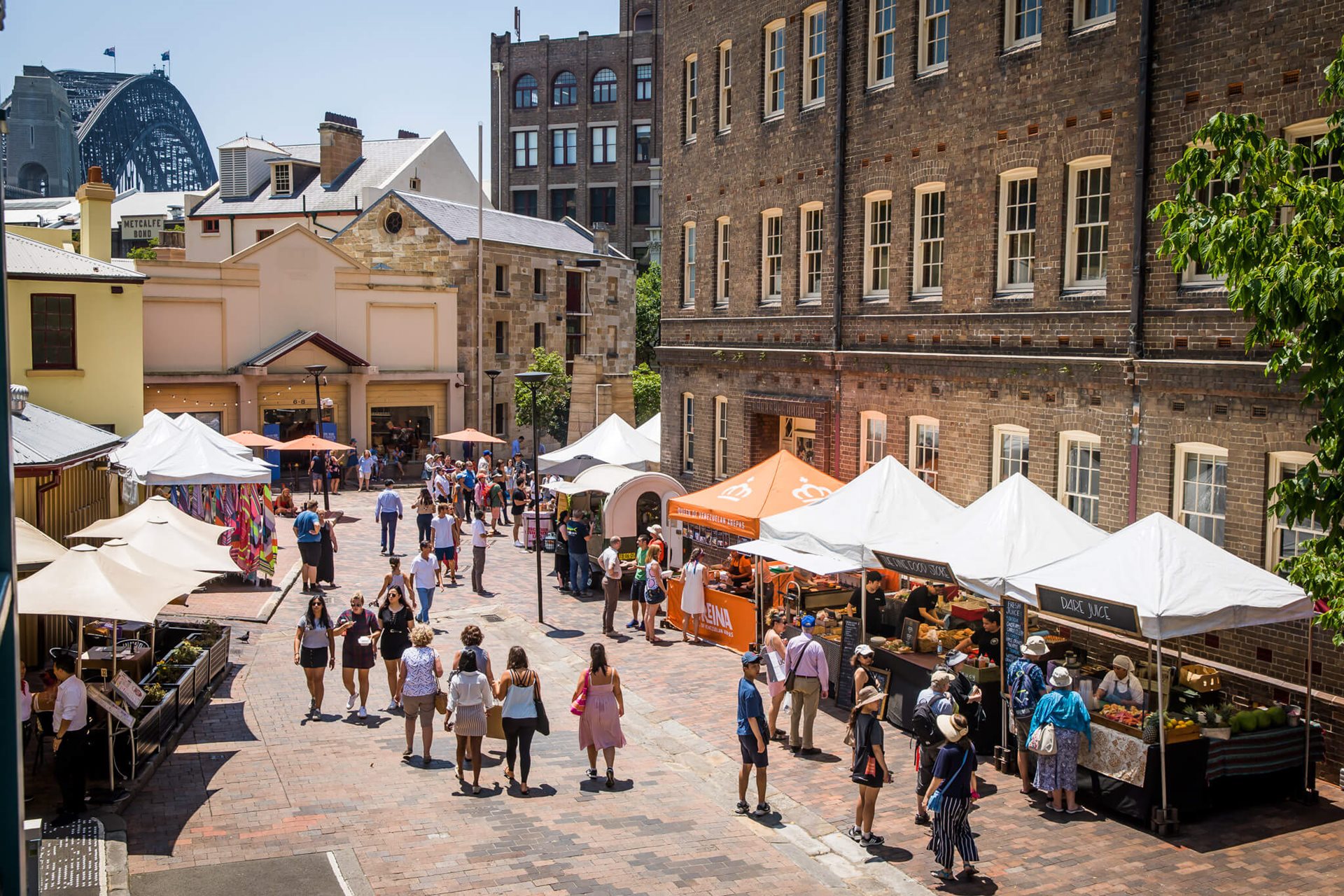 View gallery
Exotically Local
The Rocks Markets
The Rocks Markets, where the streets come alive with carefully curated artisanal wares, gourmet street food and harbourside views upon Sydney's oldest cobblestone streets. Important: In line with the new Covid restrictions, The Rocks Markets is cancelled until further notice but you can support local through The Rocks Markets Online.
The Rocks Markets - Night Edition
4pm - 9pm Friday (cancelled due to Covid restrictions until further notice)
Playfair Street, Atherden Street and Jack Mundey Place
The Rocks Markets
10am - 5pm Saturday and Sunday (cancelled due to Covid restrictions until further notice)
George Street, Playfair Street and Jack Mundey Place
Experience Sydney's original market
Every Friday, Saturday and Sunday, talented local makers, chefs, and artisans come together in the city's oldest precinct to bring you The Rocks Markets.
The Rocks market - Friday night edition
On Friday when the clock strikes 4pm, it's time to drop the tools and celebrate. There's no better place to do it than at the most vibrant market in Sydney, now open every Friday night from 4pm to 9pm. 
Start your weekend with an electric atmosphere, sizzling street food, and fairy lights hanging overhead in Sydney's oldest precinct. There'll be boutique shopping from local makers, delicious food and drink to sample and a little live music from local artists to set the tone for the weekend. 
There's no contest - a visit to the Rocks markets is officially the best thing to do in Sydney on a Friday night!
The Rocks Markets - Weekend 
If you haven't been to the Rocks weekend markets in Sydney, you haven't truly seen the city. 
The markets come alive in the weekend sunshine, bursting with local characters including artists, chefs, craftsmen, small business owners and city explorers just like you.
Drop in this weekend to shop up a storm with handmade beauty products, art, homewares, gifts and more from local makers.
Fuel your exploration with a delicious bite from one of countless food stalls.
Or participate in one of many free workshops or events such as yoga in the park.
This is Sydney culture at it's finest with a focus on supporting small local makers, chefs and creatives. See you there!
Interested in becoming a stallholder?
Our FAQs and Application Criteria will give you all the information you need to apply for a stall at The Rocks Markets. We look forward to receiving your application.