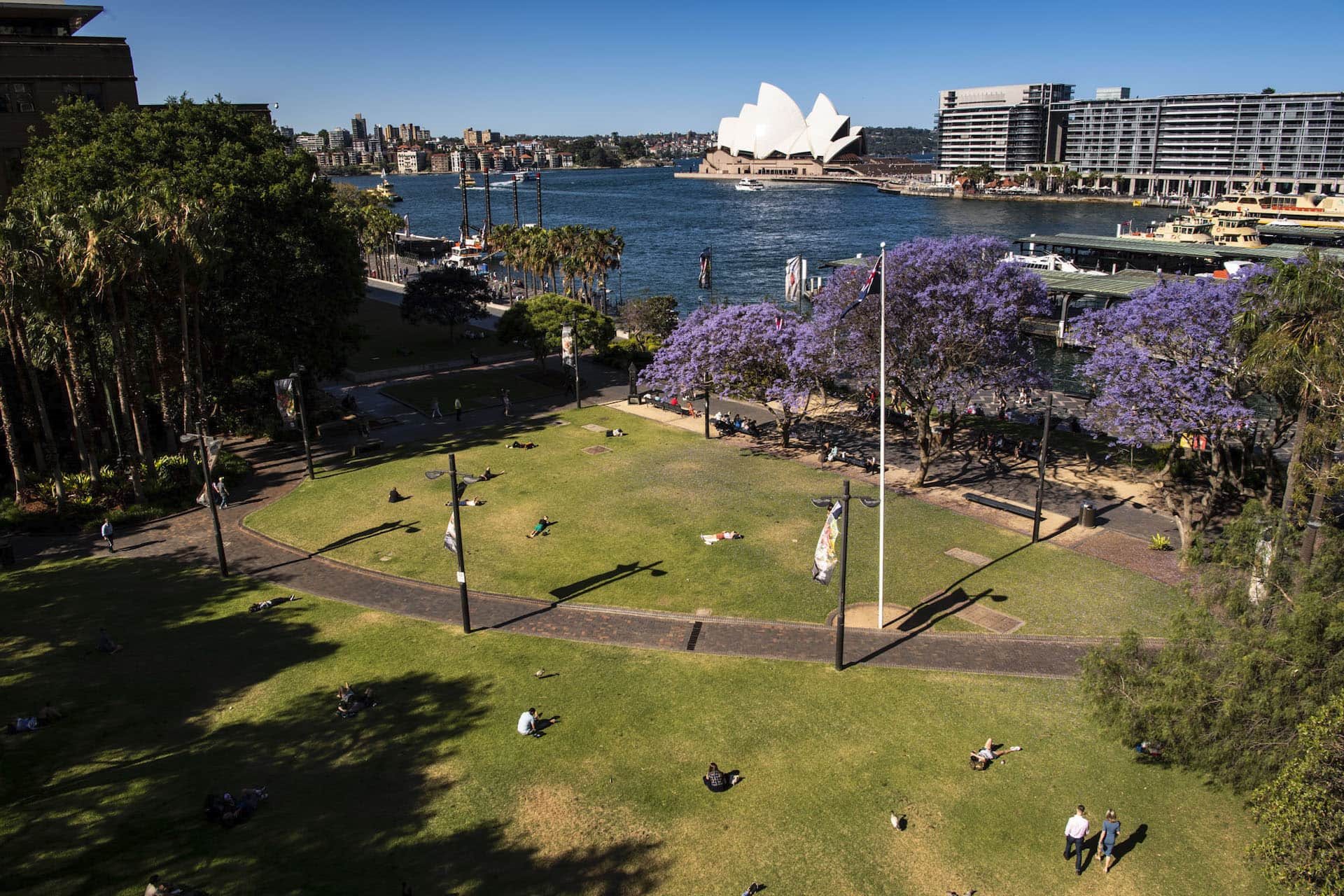 View gallery
A grassy open space in The Rocks, frequently used for passive leisure.
First Fleet Park is situated between the Museum of Contemporary Art (MCA) building and the Circular Quay transport interchange and adjoins the waterfront promenade along the edge of West Circular Quay.

This public space contains both paved and grassed areas and includes pedestrian north-south and east-west links, which offer panoramic views of the Sydney Opera House, the Harbour Bridge and Circular Quay.
Appropriate use
Event support area including first aid, catering, security info centre

Product sampling Public product displays

Commercial promotions Promotional activity

Activations

Live sites

Events
Gathering
Passive recreation
Informal meeting
Pedestrian circulation
In addition to general standards/criteria, the proposed event must:
Be set back 1.5 metres from public footpaths
Remain clear of the pit covers in the northeast corner of the park at all times
Use approved turf protection for all vehicle movements
Not use pegs or stakes to secure items on the grassed area
The site's public status as a primary waterfront open space
Access links along the promenade, from Circular Quay transport interchange, from George Street and Alfred Street
Cumulative impact of temporary events on public access and use of the lawn area, the condition of the turf, and the location of underground services
Vehicle access restrictions when a ship is in port at the Overseas Passenger Terminal
Weight loading restrictions Maintaining Sydney Water's access to pit covers at all times
Vehicle size restrictions
Limited power on the eastern side
Maintaining pedestrian access during event builds and bump out
Surface

Predominantly grass with paved pathways

Toilets

Under Cahill Expressway (including accessible facilities)

Pedestrian access

From George Street via the pedestrian corridor under the Cahill Expressway and from Circular Quay West promenade

Vehicle access

Limited access through George Street south. 

Parking

No public parking available

Power

Box 1 (Garden bed near First Fleet steps)
3x 32 amp 3 phase (5 pin Wilco outlet), 1x dual 10 amp single phase

Box 2 (garden bed near Cahill Expressway)
2x 32 amp 3 phase (5 pin Wilco outlet), 1x single 10 amp single phase. Some power may be unavailable due to light rail construction

Water