Jason Wing
Pemulwuy - "Butu Wargun"
Jason Wing questions our understanding of history and of our current socio-political reality,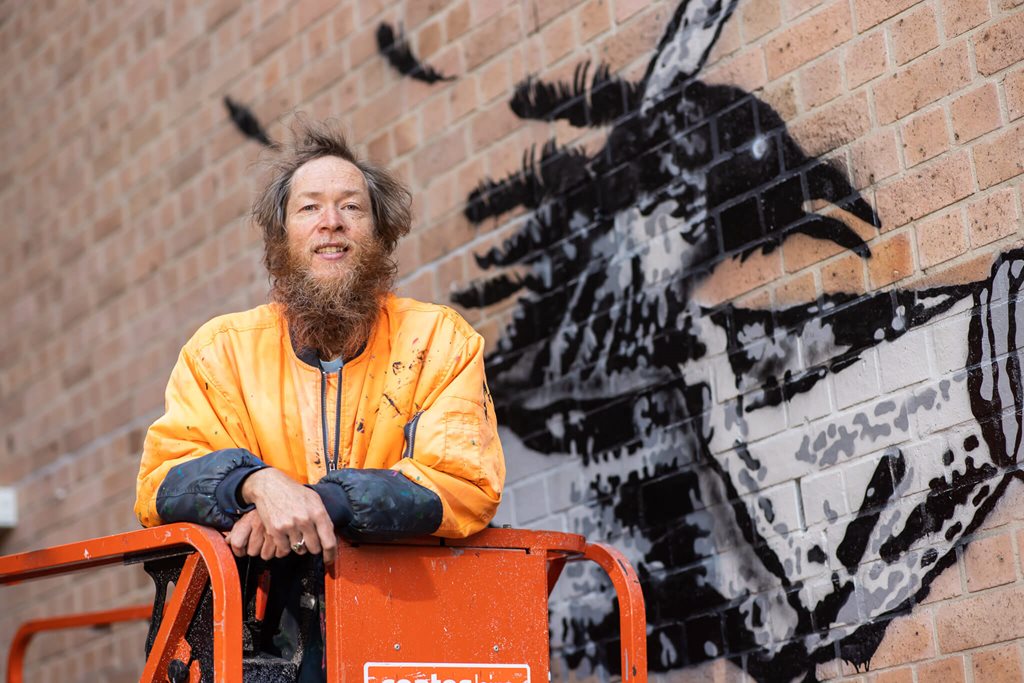 About Jason Wing
Jason Wing is an Aboriginal artist of the Biripi nation, currently living and working on both Gadigal country and Wiradjuri country. Wing's work questions our understanding of history and of our current socio-political reality. Wing holds a Bachelor of Fine Arts from Sydney College of the Arts, University of Sydney. Significant solo exhibitions include: Kluge-Ruhe Aboriginal Art Collection, Virginia, USA, 2012. Selected group exhibitions include; Making Change, National Art Museum of China, Beijing, 2012. Wing's work is held in both private and public collections including the National Gallery of Australia, Canberra. Wing was recently selected in the Defying Empire: 3rd National Indigenous Art Triennial, National Gallery of Australia, Canberra, NSW, 2017.
Artwork Statement, Pemulwuy - "Butu Wargun", 2021
Pemulwuy is one of thousands of significant Aboriginal leaders in New South Wales. Pemulwuy was an Aboriginal man born around 1750 who frequented the area of Botany Bay, NSW. He is noted for his 12 year leadership in uniting many clans to resist the British invasion of Australia. Pemulwuy is believed to be Bidjigal, the original people of the wider Toongabbie and Parramatta region of Sydney. During 1790, Pemulwuy persuaded multiple Aboriginal mobs to join his campaign against the British invaders.
Pemulwuy travelled constantly up and down the Nepean, Georges, Cooks, and Parramatta Rivers to Sydney Harbour. Pemulwuy was a garadyigan* (a clever or magic man). There are documented accounts about Pemulwuy escaping incarceration by transforming into a crow and flying through the bars, leaving behind crow feathers.
Many Aboriginal leaders have been written out of history and we were often told that Aboriginal people did not resist the colony, and were submissive and compliant. This was not true. It is important that in this world governed by division (black and white) that we remember and be inspired by Aboriginal people who fought to unite rather than divide.
There were many attempts to capture and kill Pemulwuy as he evaded the most sophisticated and technologically advanced army of the time. Eventually, Pemulwuy was captured and his head was cut off and sent to England as a trophy for King George III. Many attempts to return Pemulwuy's head have failed. Prince William visited Redfern in 2010 and Aboriginal Elders asked him to aid in the return of Pemulwuy's head as Aboriginal people's souls cannot rest until their remains are returned to Country.
*Garadyigan, sourced from "The Sydney Language" by Jakelin Troy, 2019