Maddison Gibbs
Spirits Make Noise
The works explore ancient Aborignal cultural practices and sustainable development successfully practiced from the oldest and most sophisticated culture in the world and are a call and response to individual accountability and action.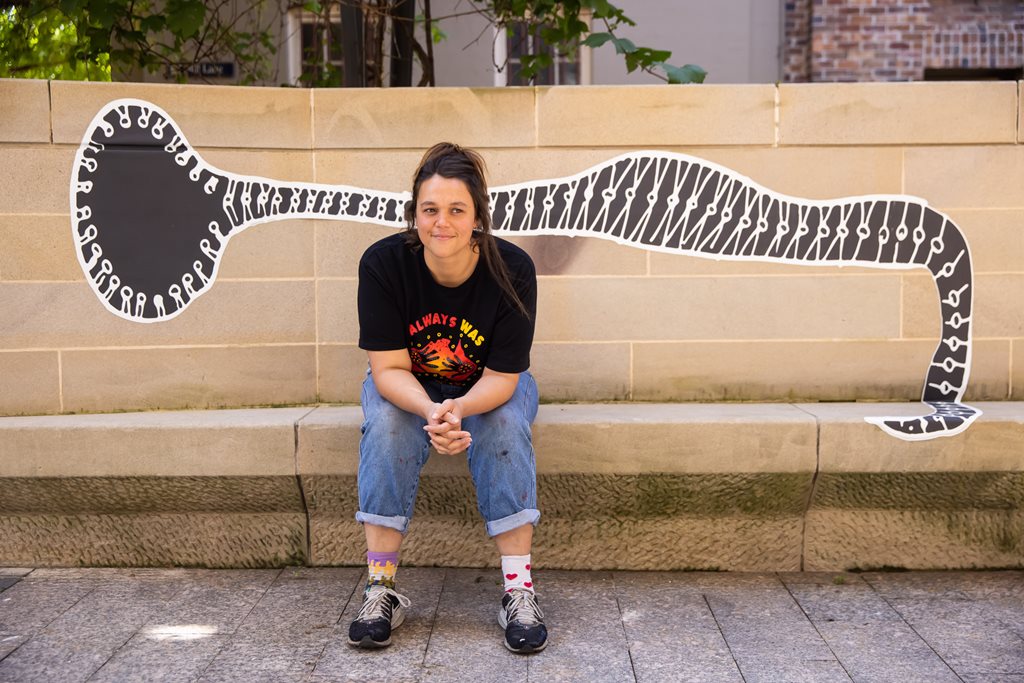 About Maddison Gibbs
Maddison Gibbs is a proud Barkindji woman who grew up in Dubbo, NSW. She currently lives and works between Sydney and Kandos, NSW. Both artist and activist, Gibbs' practice examines dual histories, focusing on past and present Aboriginal cultural narratives. A multidisciplinary artist, Gibbs works across a wide spectrum of cultural practice; her current focus is the telling of women's stories.
Gibbs' work is polarising, the dual sensitivities of caring for a country and fighting injustice is an interesting tension and one that is explored throughout Gibbs practice.
"My artworks are based on my culture, people and surroundings, they tell stories of past and present by using contemporary methods and ideologies. My works include political statements and educational information regarding Aboriginal issues, a subject which I am extremely passionate about. I use different mediums for my works including murals,drawing, ceramics, printmaking and animation."
Artist statement - Spirits Make Noise, 2021, Rocks Square
Resurgence of the female matriarch is happening. This show is inspired by Aboriginal Female ancestors who are still continuing the fight.
The artwork imagery is drawn from seeds, nuts, plants, and medicine. The spirits represented in these drawings reflect the many roles that women hold: Grandma, Aunty, sister, daughter, niece, mother, life giver and baby. Women have been the backbone of ancient and contemporary culture since the beginning of time; this work explores ancient Aboriginal cultural practices that are embedded in the sustainable and ongoing care of our Country and in our communities. It is a call and response to individual accountability and action.
The works explore ancient Aborignal cultural practices and sustainable development successfully practiced from the oldest and most sophisticated culture in the world and are a call and response to individual accountability and action. Women have been the backbone to ancient and contemporary cultures since the beginning of time. "My work is about the regeneration of country, culture and women."