11 Jun 2020
Butchery, bigamy and booze: Sydney Harbour YHA's secret history
The site of the Sydney Harbour YHA is one of the Australia's most significant archaeological spaces, full of wild stories of convicts and crime.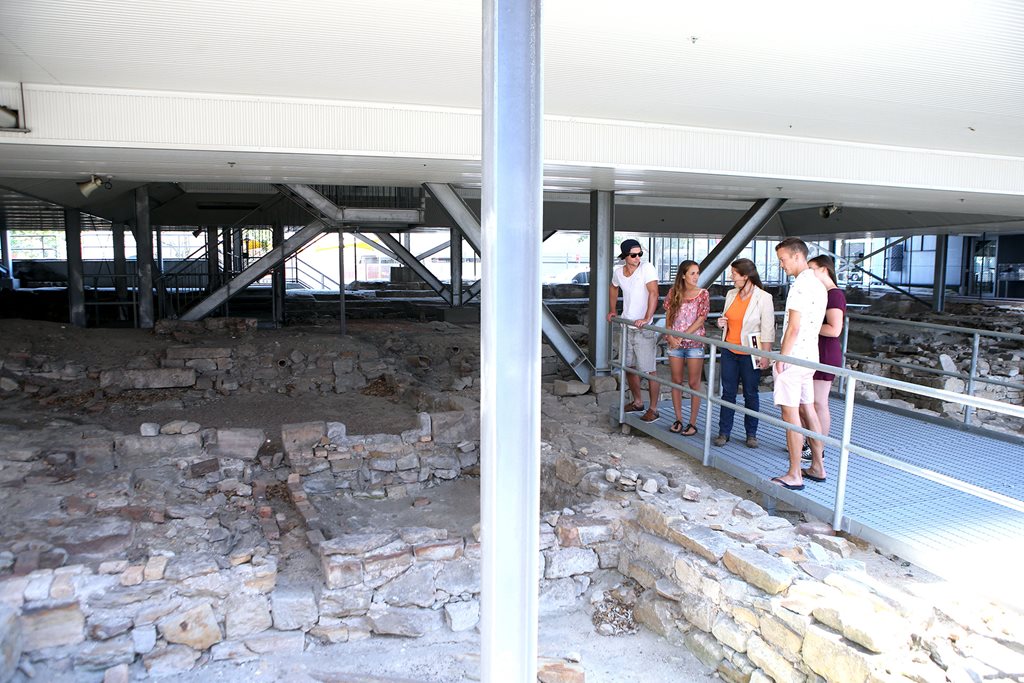 Many of you will have heard of the Sydney Harbour YHA. Some of you might know it's leading the way with its strong focus on sustainability and is the most awarded hostel in the entire world, but did you know that the site of the YHA is also one of Australia's most significant archaeological spaces, full of wild stories of convicts and crime?

Nestled beneath the Sydney Harbour YHA, which sits atop pillars to allow access to the site, the Cumberland Street Archaeology Site is now known by its nickname, 'The Big Dig'. In 1994, an archaeological excavation of the site found the remnants of over 30 dwellings, dating back to the earliest days of Sydney's colonisation.
And among these dwellings was a real wild ride of a story. The story of butcher, bigamist and long-suspected boozehound, George Cribb.
Just a few months after arriving as a convict in 1808, George had somehow managed to purchase almost half of this site, which is a pretty spectacular task for someone merely selling 'fine fresh pork' to locals. And against all logic, he was able to just keep spending, eventually setting up his own slaughter yard, butcher shop and even a hotel by 1813.
How did he manage all of this on a convict's income?
The cops wondered the same thing. They felt certain that he was running an illegal side gig producing bootlegged alcohol, but they could never prove it. No accusation ever stuck to slick George. He made sure of it.
This even went as far as paying off his wife, Fanny Barrett, to return to England after his secret first wife, Martha, wrote to tell him she was coming down under. Bigamy was as illegal then as it is now, and George did not need the extra heat. So off Fanny went, replaced by the wife George had had all along. He would marry again after Martha's death, to a widowed publican called Sophia Lett.
By 1819 George was somehow wealthy enough to even own racehorses, and was leasing out several houses that he had purchased on Cumberland Street. But his wheeling and dealing meant he was never far from the eye of the law, and following a cattle theft charge in 1830, he was never really heard from again. He disappeared from the records, and we'll never know where he ended up or what kind of misdeeds he applied himself to later in life.
Fossil pollen from the garden of the home George shared with all of his wives shows they grew peas, beans, apples and lemons in his time there – but of greater interest was a large circular well on the property. Here, archaeologists finally stumbled across the missing piece of the puzzle – the proof the cops had longed for all their lives but never found. It was a still. The kind used to produce bootlegged alcohol.
After a lifetime of ducking the law and evading the charge, George Cribb's hidden secret finally came to light, and the story of the man who owned Cumberland Street was finally complete.

Head to Sydney Harbour YHA's website to book your affordable stay with amazing harbour views at www.yha.com.au. It is walking distance of much of Sydney's best bits. The roof of the Sydney Harbour YHA looks out over the entire harbour, and is a prime spot for New Year's Eve celebrations every year.