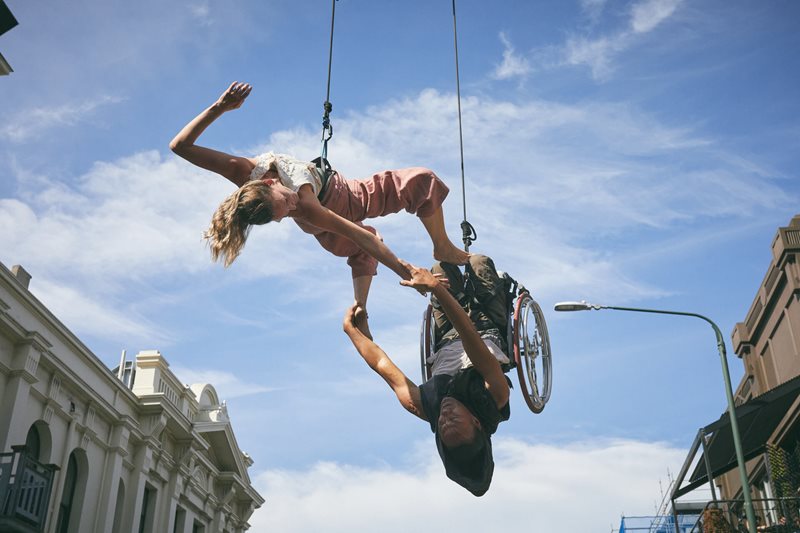 When
Fri 20 - Sun 22 Jan
See individual session times on the Sydney Festival website.
Where
Tallawoladah Lawn, in front of the MCA
140 George St, The Rocks NSW 2000
Embracing the art of summer since 1977, Sydney Festival is a city-wide celebration of culture, creativity and the questioning mind.
Visit The Rocks and Circular Quay during Sydney Festival 2023 to see the FREE mesmerising aerial duet, The Air Between Us and the hilariously inquisitive Tip Duck.
 
The Air Between Us 20 - 22 January
In front of the MCA on Tallawoladah Lawn 
A joyful and awing aerial collaboration, The Air Between Us is created and performed by acclaimed New Zealand dancer and choreographer Chloe Loftus and award-winning Māori dance artist and wheelchair-user Rodney Bell.

Using a unique rigging and counterweight system, this free, accessible and family friendly work soars above the Museum of Contemporary Art's front lawns.

Two extraordinary bodies connecting across cultures and life experiences, lifting, swooping, circling each other like planets in harmonious orbit.
"Bell's dancing is moving and absorbing, sculptural and full of emotion" - New Zealand Herald
Tip Duck 20 - 22 January
Roving in Circular Quay
The product of decades of intensive research and development, Hobart's Terrapin Puppet Theatre presents the future of litter collection in your city with Tip Duck, spearheaded by an ibis named Ibsen trained to pick up rubbish and put it where it belongs.
Bigger than your average bird, way more inquisitive and prone to laying the occasional egg (both literal and metaphorical), this sauntering stickybeak appears when you least expect it and always with hilarious results.
Made from salvaged, recycled and sustainable materials, Tip Duck puts the bin in bin chicken, and also puts the chicken in the bin (if you're finished with it).
Friday 20 Jan
Saturday 21 Jan 
Sunday 22 Jan 
Never miss out on events
Get updates on the latest events from The Rocks.
Stay up to date
Get the best of The Rocks straight to your inbox.