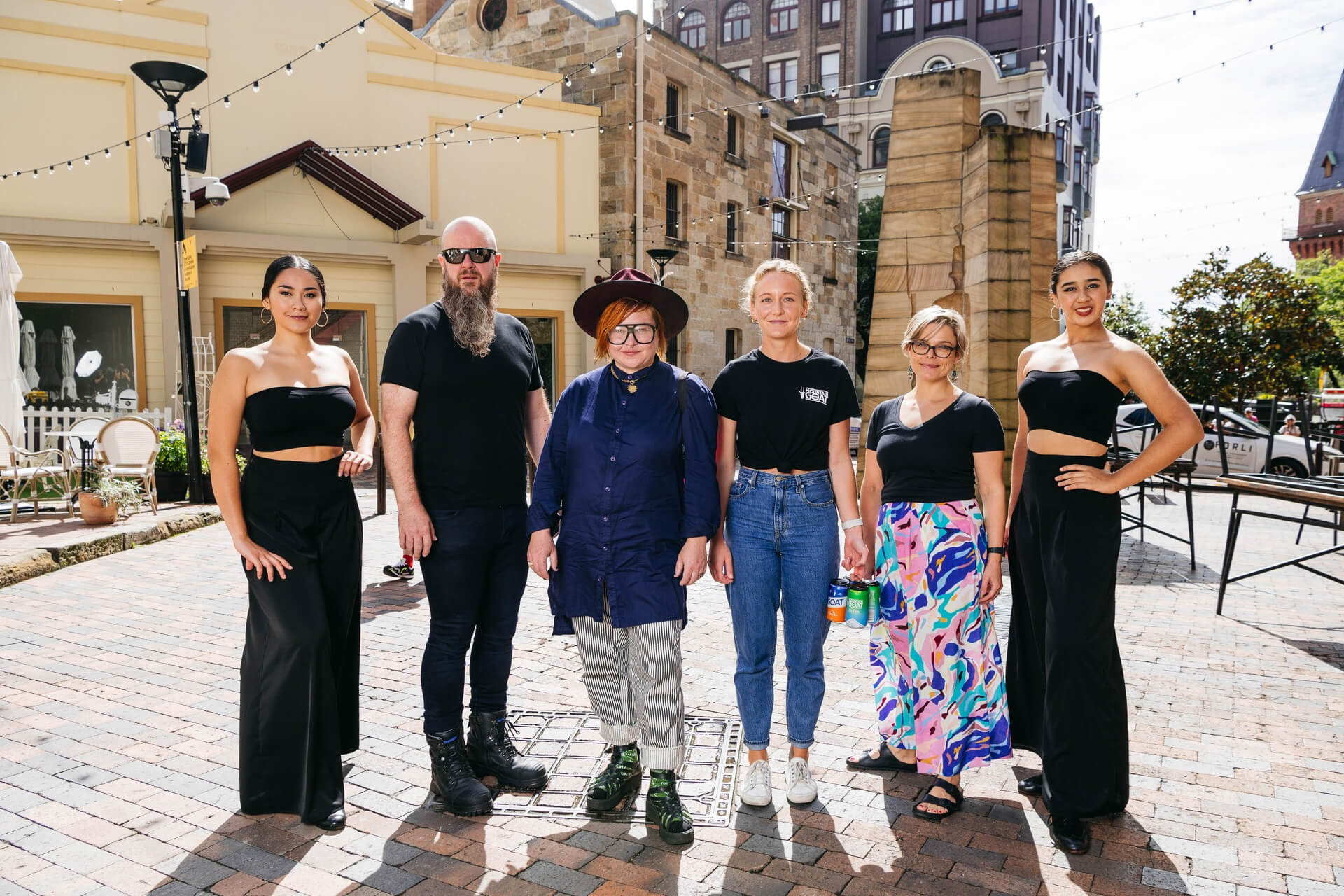 MULTI-ARTS FESTIVAL
107 on The Rocks
The Rocks was transformed when 107, an inspiring new multi-arts festival made its debut in Sydney during April.
There was a Courtyard Pop-Up Bar which featured drinks from local bars Hickson House and The Keel, plus burgers, nibbles, a pop-up Oyster Bar and a special BBQ throughout the festival. This featured alongside a diverse line-up of live music from a mix of genres including R&B, funk, hip-hop, jazz all mixed together as they put live music back on stage.
Festival hub and info, workshops, exhibitions
The Gallery, 73 George Street
Workshops and Exhibitions
NADEENA DIXON ART
Video Projection Installation | FREE ENTRY
Unwins Courtyard
5pm – 8pm, Thu – Sat
Multi disciplinary Gadigal, Wiradjuri, Yuin Artist, Sydney based, born in Sydney in 1969 on her ancestral country she has extensive training and skills in Western and Indigenous Art Practice.
Acknowledged as a Master Weaving practitioner engaged with ongoing revitalisation of traditional cultural practices ,supporting young and emerging artists to develop core skills.
Stay tuned for more specifics on the artwork.
THE RIZZERIA
Workshops | FREE – $20 Workshops
11:30am - 1pm & 3pm - 4:30pm, Sat 9
11.30am - 1pm (Kids school holiday workshop), Sat 16
2pm - 3.30pm (ages 13+), Sat 16
1pm - 4pm, Sat 23
11am - 12.30pm & 2.30pm - 4pm, Sat 30
Step into Rizzotopia, a creative wonderland created by the team at The Rizzeria. Featuring daily workshops and demos with a large installation of printed works that grows over the four weeks from participants' works. Tickets are free, however we recommend registering in advance.
The Rizzeria is a 100% volunteer-run, not-for-profit co-op. They own a ME9350 risograph stencil printer, which is made available to the public through open-print sessions and workshops.
Risograph printing is an affordable and unique stencil printing technique, known for its vibrant colours (including fluoro and metallic inks), its handcrafted aesthetic, and the ability to layer different colours. It is great for producing small editions of art prints, posters, postcards, zines and more.
Get tickets
The Courtyard, 102A George Street
Pop-up Food & Beverage Offering, Music Events, Exhibitions
Exhibitions, workshops, live music performances
devil devil by NICOLE MONKS & JENINE BOEREE
Art Installation | FREE ENTRY
Coroner's Cells
11am – 5pm, Thu – Sun
Her work miyarnuwimanha translates to 'learning, becoming knowledgeable'. The work addresses notions of knowledge transfer, resilience of the stolen generation, and the complexities of living off Country on other mob's unceded land.
miyarnuwimanha was successful and highly acclaimed during its 2020 exhibition in The Lock Up, a colonial jail transformed into an arts space in Newcastle. Exhibiting the installation in the heart of colonial Sydney will add another layer to this highly emotional and engaging work.
Get tickets
JAMS IN THE HUEOSPHERE
Lighting Installation | FREE ENTRY
Upstairs Coroner's Court
11am – 5pm, Thu – Sun
Jams in the Hueosphere is an interactive multimedia installation of 400 lights and 100 speakers by UNSW's Interactive Media Lab with passerbys able to explore unique sound compositions by day and unique live music performances by night.
Live Performances ~
8:30pm – late, 9 April – Flower Boy 卓颖贤
7pm – 9:30pm, 21 April – Party Dozen
7pm – 9:30pm, 22 April – Rydeen
8pm – 9pm, 23 April – GAUCI
9:30pm – 11pm, 23 April – Flower Boy 卓颖贤 (encore)
7pm – 9pm, 24 April – Rydeen (encore)
Soundworks & Lighting Installation
Gillian Kayrooz, Joe Manton
Stay up to date
Get the best of The Rocks straight to your inbox.