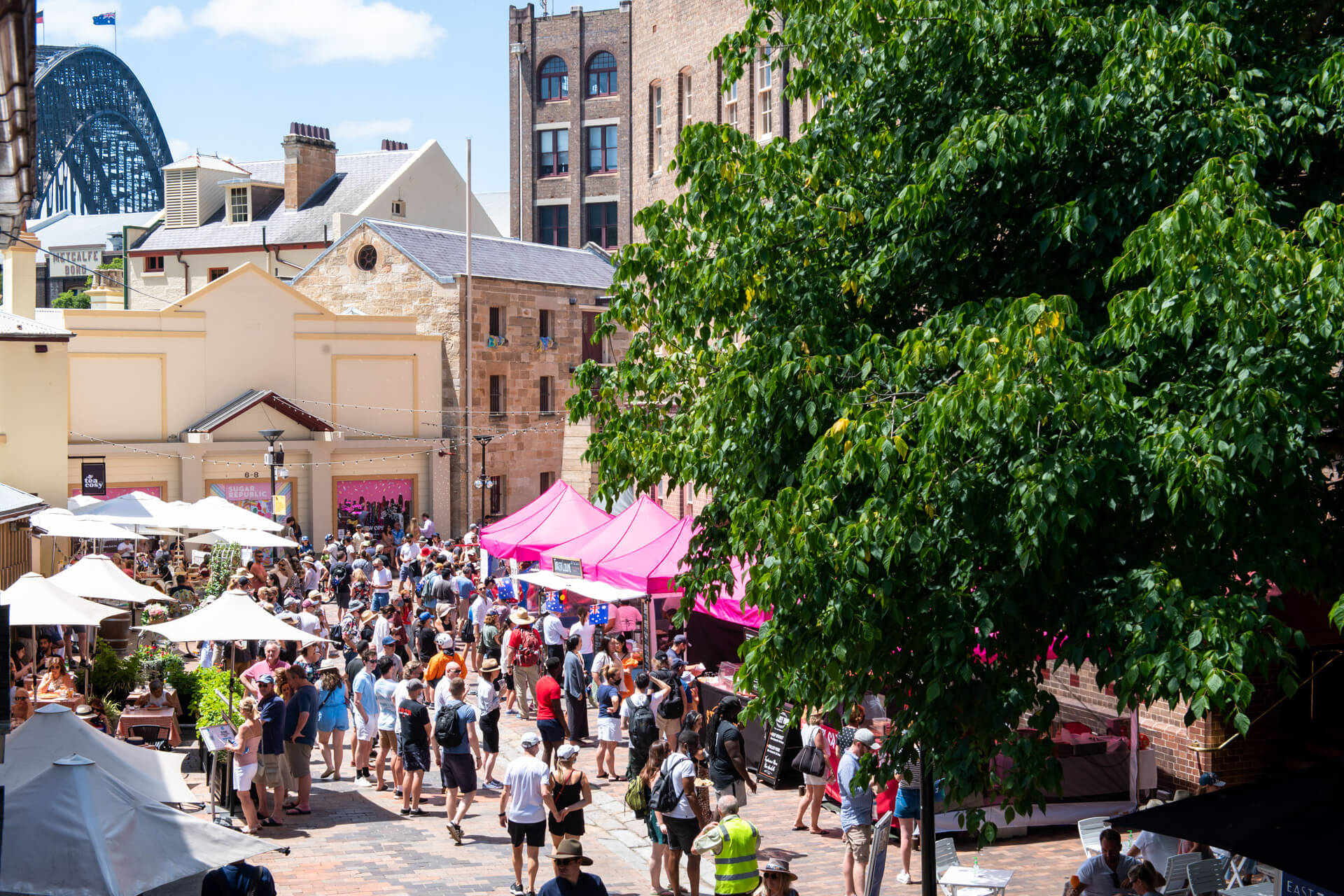 Uniquely Aussie
Australia Day
Watch as The Rocks transforms into a day-long market with free music to delicious street food, wheelchair races and superb views.
Head down to The Rocks to commemorate Australia Day under the summer sun. From free live music to delicious street, wheelchair races and superb views, there are plenty of ways to make the most of your day off. There's also lots on offer nearby at the Sydney Opera House, Circular Quay and Overseas Passenger Terminal.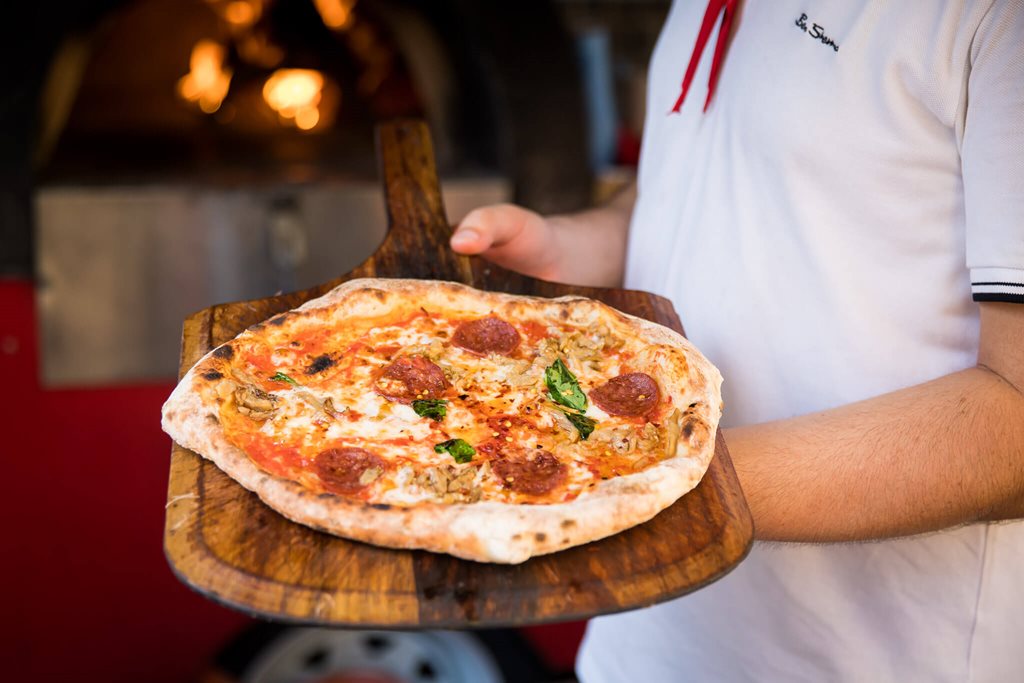 Grab a plate of delicious food at The Rocks Markets
In the heart of The Rocks, you'll find an open air market featuring tasty eats celebrating Australia's diversity with food.
Visit and you'll discover dishes from all over the planet - all prepared by local chefs right in front of you.
Expect authentic pizzas, handmade chocolate, caramel waffles and Portuguese egg tarts all within arm's reach, and while you're there, enjoy free live music.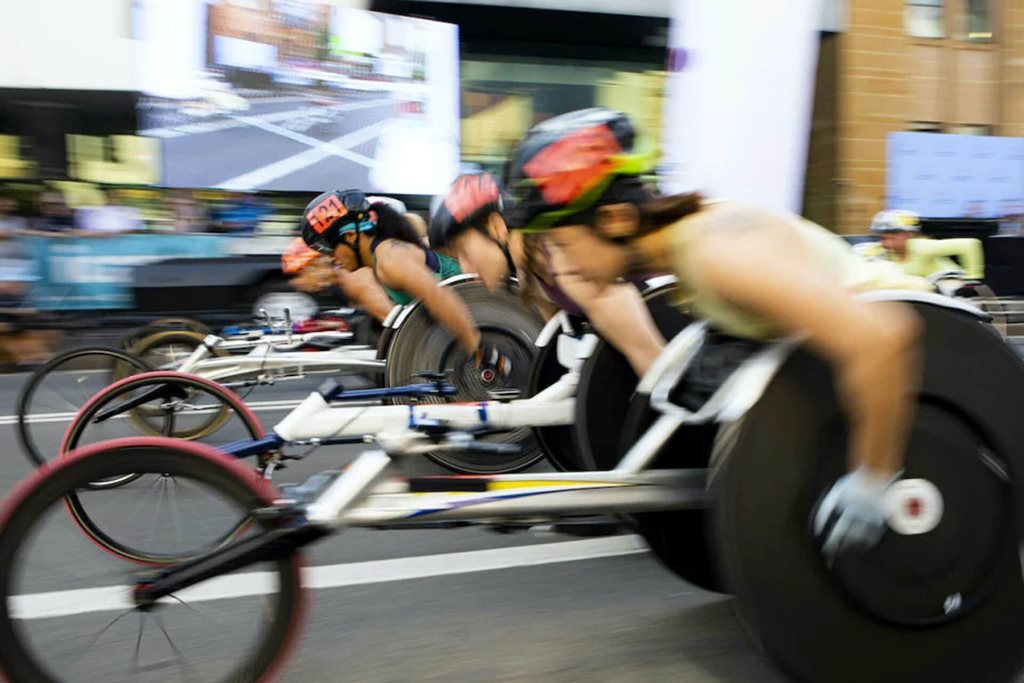 Oz Day 10K Wheelchair Race
The annual GIO Oz Day 10k race at The Rocks is one of the greatest wheelchair road races in the world. See over 30 local and international athletes from Paralympians to juniors battling it out on a super tight and technical course that will push them to their limits! Cheer on the athletes in prime position along George St and Hickson Road.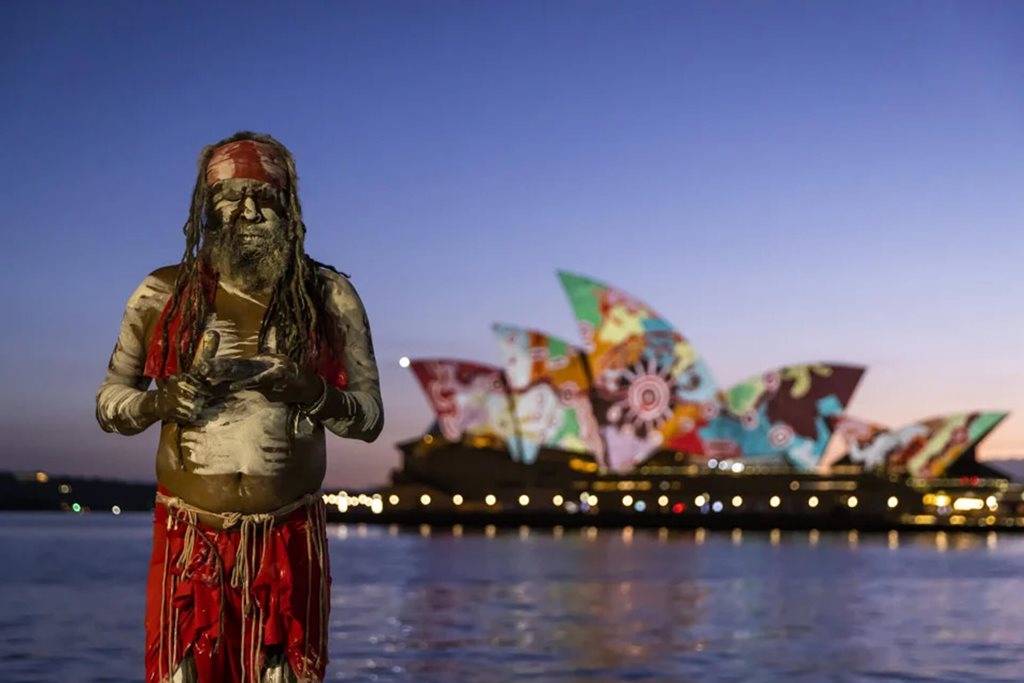 Dawn Projection at the Sydney Opera House
As the sun rises on Australia Day, the world-renowned Sydney Opera House sails will again be lit up with a spectacular First Nations artwork.
The 2023 Dawn Projection will feature the work of proud Kamilaroi woman and artist, Rhonda Sampson. Head down between 5.20am and sunrise to see the magnificent artwork across the country's most iconic canvas.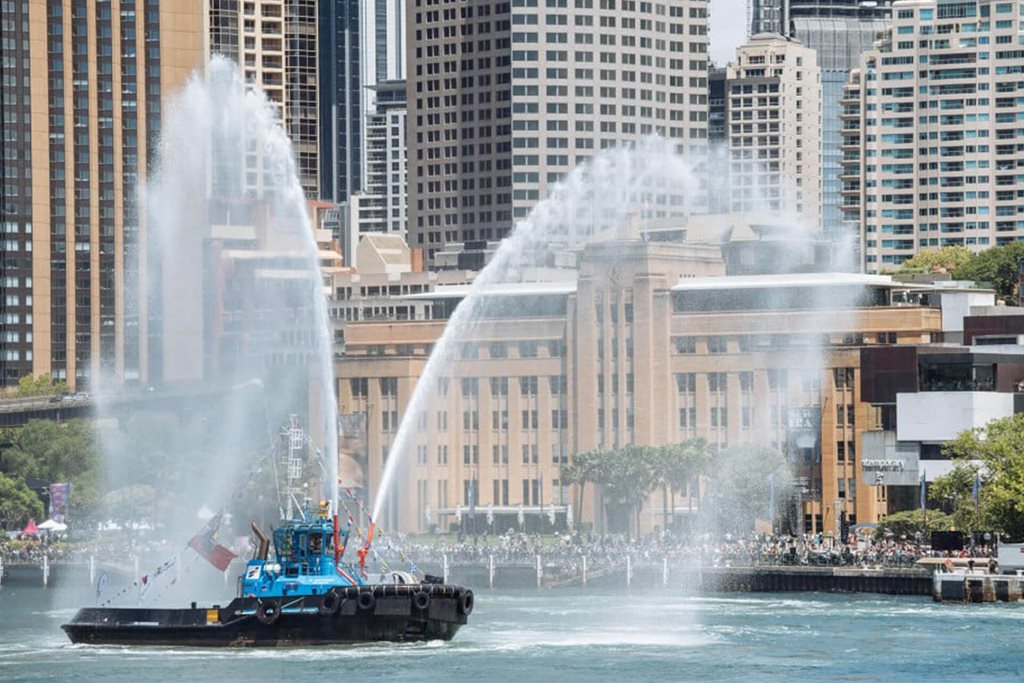 Maritime Mayhem
Back by popular demand! Like a Monster Truck show - but on water. Get ready for a high-voltage, action-packed display accompanied by fun commentary. Think stunts and tricks by jet-skis, a tug handling display and a combination of the two in an all-out exhibition of mayhem and manoeuvrability choreographed to a rockin' soundtrack.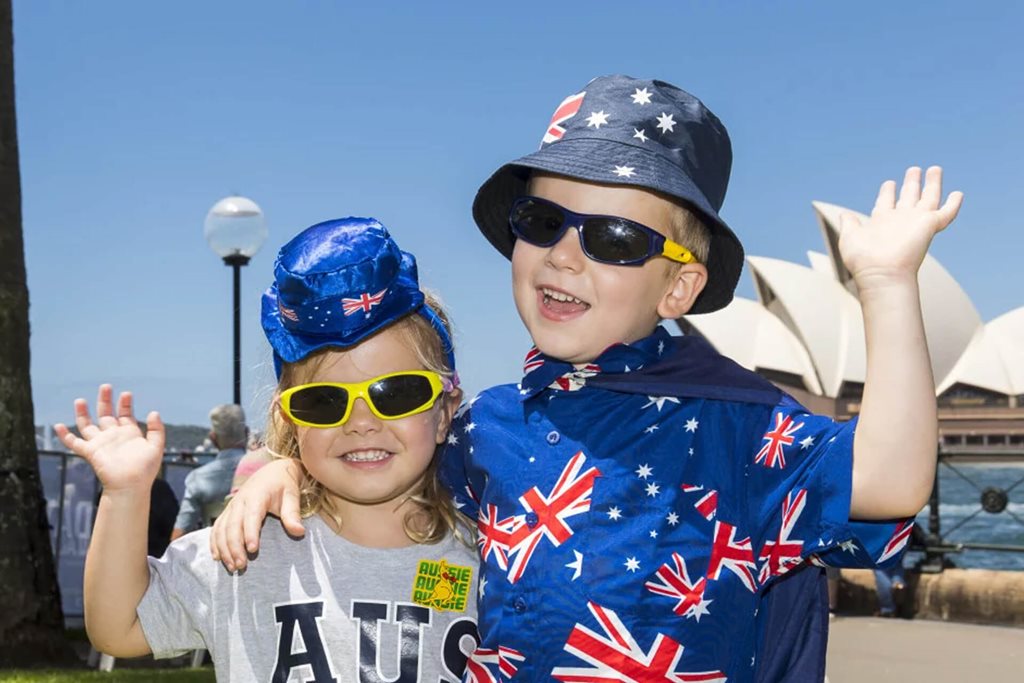 Mega Kidz Zone at the Overseas Passenger Terminal
The Overseas Passenger Terminal is a family friendly zone on Australia Day, with activities to satisfy the kid in all of us! 
There will be a DJ in the food court, roaming buskers and street performers – a great place to grab a bite to eat from the food trucks outside and an excellent vantage point for many Harbour activities.
Throughout the day, lose yourself in the ninja-inflatable obstacle course and a massive maze, and watch the kids' faces light up at the family friendly arcade and more. Take in some wheelchair basketball and hang out on at the Family Friendly Fun Zone on the MCA Lawn.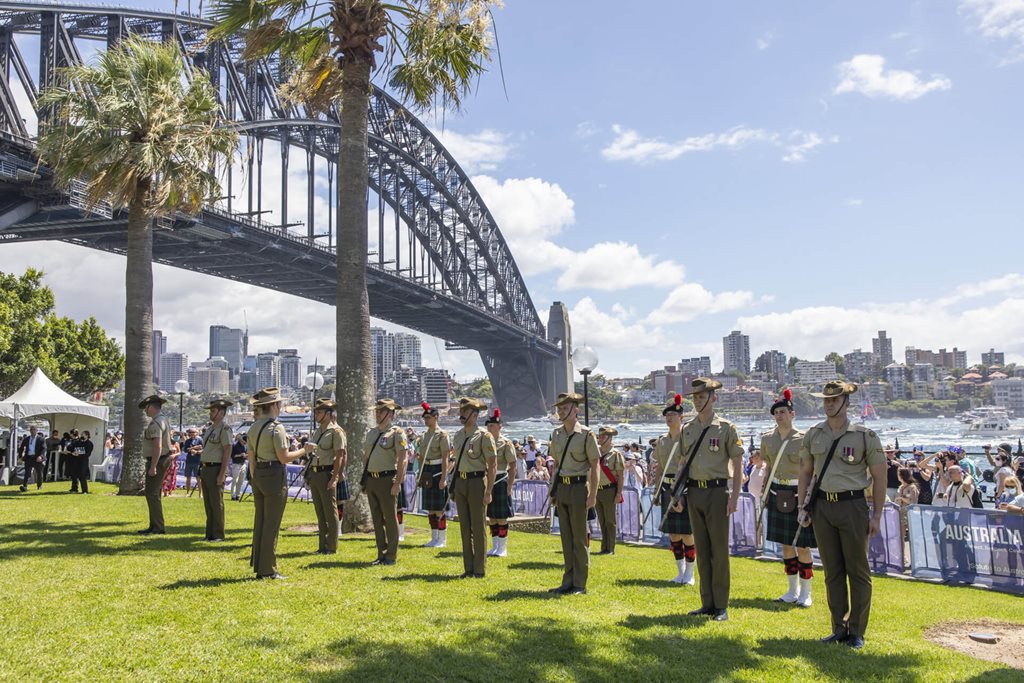 Salute to Australia and fast jet flyover
The Salute to Australia honours and celebrates the extraordinary contributions of many homegrown heroes, signalling hope and optimism as we unite on our national day. The ceremony takes place at Hickson Road Reserve and honours new citizens and culminates in a fast jet flyover, 21-gun salute and tribute by a Navy Flagship.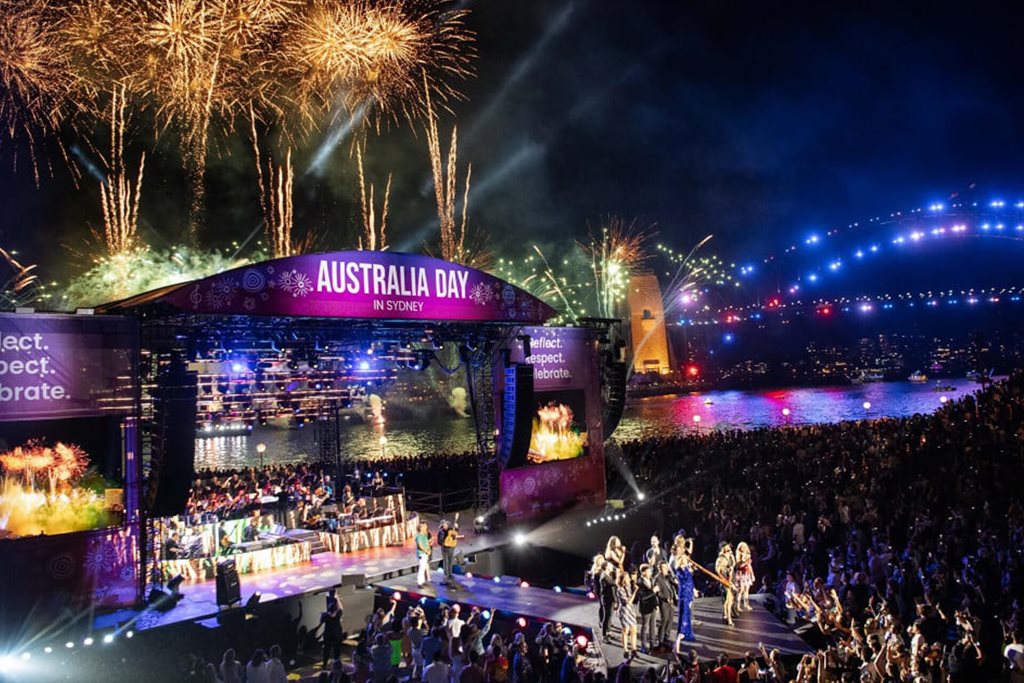 Australia Day Live
An unmissable concert taking place both on land and water, featuring live musical performances from top Aussie acts choreographed to a flotilla of yachts, jet-skis and fly boarders with a spectacular fireworks display on Sydney Harbour. This is a free ticketed and outdoor seated event. Limited tickets will be released to the general public in mid January 2023.
Looking for more fun things to do this Australia Day? Check out the Wugulora Morning Ceremony at Barangaroo or see what's on at Darling Harbour.
Stay up to date
Get the best of The Rocks straight to your inbox.