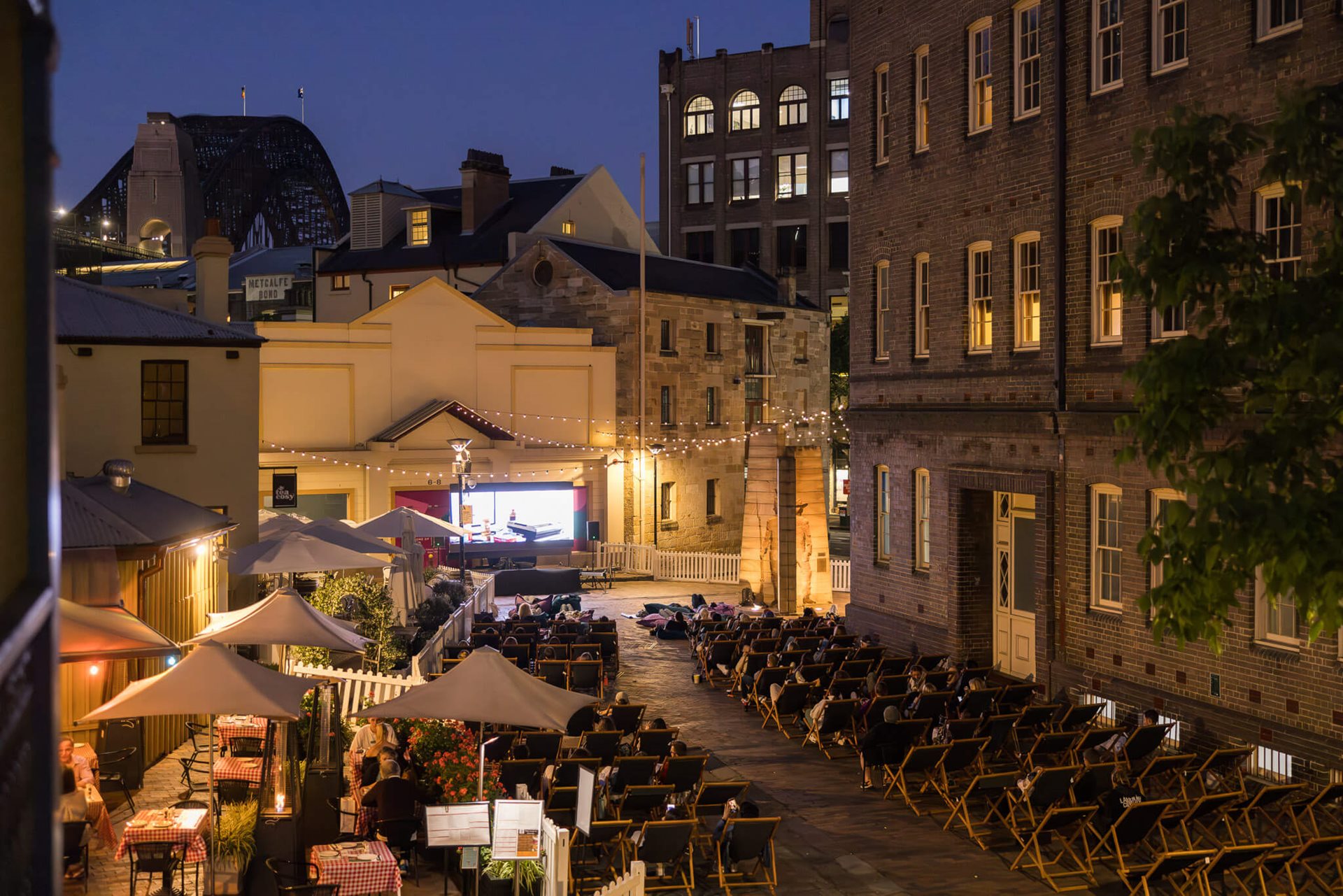 Movie Magic
Laneway Cinema at The Rocks
Heritage surrounds, hot slices of pizza, classic films, starry skies, wine, bean bags and a FREE movie screening - this is not your average movie night!
Amongst golden sandstone buildings and cobbled lanes on Playfair Street, you'll find a giant screen surrounded by cosy bean bags and comfy deck chairs where you can watch your favourite movie under the stars each Wednesday night at 7pm.
Entry to The Rocks Laneway Cinema is free, but for the best seats in the house - be sure to register for your free ticket. If you miss out on tickets, never fear walk ups are also welcome.
In December we are celebrating the festive season and we will be proudly supporting OzHarvest, Australia's leading food rescue organisation.
All month we will screen your favourite Christmas classics and spreading the word to support those in need. Profit from each $2 bag of popcorn sold will go to OzHarvest to help feed people in need and stop good food from going to waste.
Stay up to date on all upcoming movies by subscribing to our newsletter.
For any booking or ticket enquiries, contact us here.
Christmas
Batman Returns
Wednesday 6 December
7pm
The evil Penguin wants to take control of Gotham City and uses Max Shreck to reach his goal. Meanwhile, Batman does everything in his power to stop the Penguin while Catwoman has an agenda of her own.

Book here
Christmas
Gremlins
Wednesday 13 December
7pm
A young man inadvertently breaks three important rules concerning his new pet and unleashes a horde of malevolently mischievous monsters on a small town.
Book here
Christmas
Scrooged
Wednesday 20 December
7pm
A cynically selfish TV executive is haunted by three spirits from the past, present and future. With the help of the ghosts, he realises that he must reform himself.
Book here
Grab a bite to eat at one of these nearby venues before settling into your Laneway Cinema experience.
Terms & Conditions
Maximum of 4 tickets per person/registration
Limited registered seating and walk-up seating is available
Registered seating will only be held until the commencement of the movie. Once the movie has commenced, it will become available for walk-up guests
If you require accessibility access, please register for a seat and email pag.contactustherocks@property.nsw.gov.au for further information and our team can assist you on the evening
By registering for a ticket, you agree to the Terms & Conditions of Entry
FAQ
Yes! It is free to attend the cinema. We strongly recommend to register for your free ticket to secure a seat. There is limited seating for walk-ups available.
You are welcome to bring in food and non-alcoholic beverages. Why not plan your evening and dine in at one of our many outlets in The Rocks – better yet, why not grab some take-away and settle in for the evening. Check out our retailers here serving a range of delicious eats.
Yes! We love dogs and we know you do to. We just ask that all pooches are on a leash and remain under your control. Please be considerate of those guests that may not love dogs as much.
Pop-up or external furniture, glass and BYO alcohol are not permitted on site.
All children under the age of 16 must be accompanied by an adult.
Each movie screening will vary, please check the website for details prior to registering for a ticket. Screenings will range from G up to MA15+ and viewers discretion is advised.
If you need to leave the cinema for the bathroom or to collect some delicious take-away, please see one of the friendly staff and they can provide you with a pass out token.
Stay up to date
Get the best of The Rocks straight to your inbox.