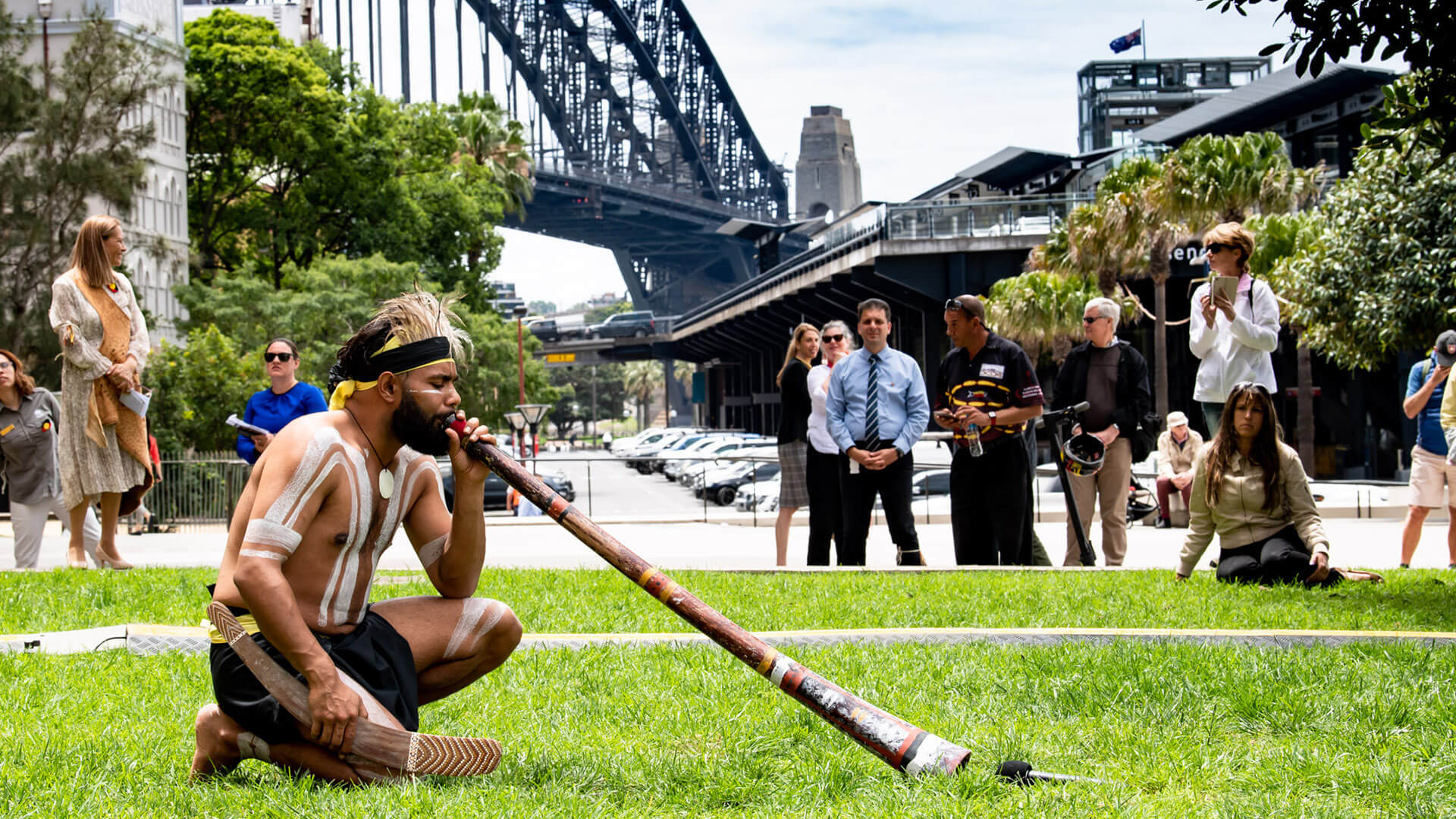 Get Up! Stand Up! Show Up!
Celebrate NAIDOC Week at The Rocks
NAIDOC Week is a chance for Australians to come together and learn more about each other's culture. See what's happening this NAIDOC Week at The Rocks.
This year's NAIDOC Week celebration - Get Up! Stand Up! Show Up! - is an appeal for systemic change and a call to keep rallying around mobs, Elders and communities. Whether it's seeking proper environmental, cultural and heritage protections, Constitutional change, a comprehensive process of truth-telling, working towards treaties, or calling out racism—we must do it together.
Learn one of the oldest languages in the world
Teach yourself the basics of a variety of Aboriginal languages with these downloadable language sheets. Ever wondered how someone said hello 65,000 years ago? Learn the basics of the revitalised languages of the First Nations of Australia with these downloadable resources.
Download the language sheet
Aboriginal Film Occupation: Native
Occupation: Native is an Aboriginal Film that aims to engage all Australians in a national conversation about Australian history and what has been missing from our history books.
Watch Now
Celebrate NAIDOC Week with guided virtual tours
Take a virtual tour from expert guides who will tell the real history of the Gadigal Aboriginal people.
Find out more
First Nations inspired shopping
Indigenous art at the MCA Store
Buy original and replica works from some of Australia's most prominent indigenous artists. The Museum of Contemporary Art Australia is the country's leading exhibitor of modern Australian art. To celebrate NAIDOC Week, take a look at their online store and shop at their huge range of Aboriginal art, including painting, sculpture, silk scarves and much more.
Visit MCA Store
Experience First Nations art at Gannon House Gallery
Ethically sourced Aboriginal art representing stories told over millennia by the world's oldest culture. Gannon House gives a rare insight into Aboriginal Art and the world's oldest culture, with their gallery of locally sourced works. Each piece is ethically sourced from communities throughout Australia and includes comprehensive information about the artist and their process.
Visit Gannon House Gallery
Indigenous art and didgeridoos at Spirit Gallery
View Australia's premier didgeridoo collection and a wide range of affordable art by First Nations people. The Spirit Gallery, exhibits and sells affordable Aboriginal art from a wide range of first nations traditional and contemporary artists. The gallery is also a hub for local didgeridoo players and hosts Australia's premier didgeridoo collection, including instruments crafted by the likes of Nathan Burton, Bruce Rogers, Kristian Benton and IDIJ Yidaki.
Visit Spirit Gallery
Never miss out on events
Get updates on the latest events from The Rocks.