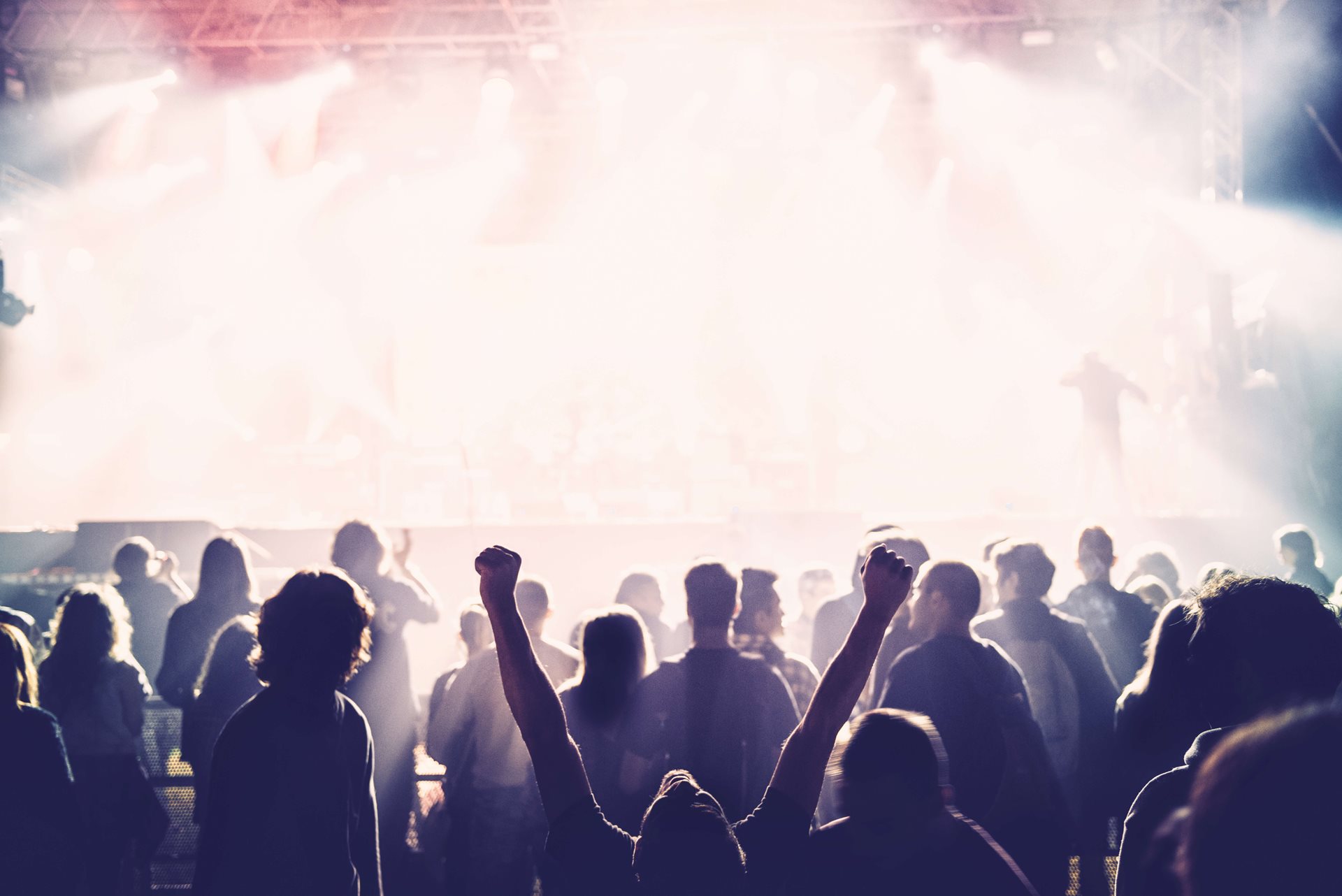 Live & loud
Free live music with Sounds @ The Rocks
Come down to The Rocks every Saturday and Sunday to enjoy a full programme of free live music from up-and-coming artists on our outdoor event stage.
The Rocks helped you discover Sydney's freshest musical talent with Songwriters @ The Rocks - now we're bringing you FREE live music every weekend with Sounds @ The Rocks.
This winter, from June 26 to July 18, the beautiful First Fleet Park will come to life with live music courtesy of your favourite local performers.
Come down to The Rocks every Saturday and Sunday to see a temporary stage lit up with Sydney Harbour as a backdrop and enjoy a full programme of live music from up-and-coming artists. From DJs, to singer-songwriters and rock bands - there's something for everyone.
While you're here grab a bite to eat and a drink from nearby cafes, bars and restaurants, or just settle in and enjoy the atmosphere on our cozy event furniture.
Saturday 26 June
DJ Carolina Gasolina
Carolina De La Piedra is a music creative working in A&R for Elefant Traks, a DJ and Radio Host. In the past few years Carolina has been the project lead for Tracks in partnership with FBi Radio and Blacktown Arts Centre. As a DJ she has played Secret Garden Festival, Laneway Festival (twice), Darwin Festival and is booked for Splendour in the Grass 2021. Most importantly, Carolina has become a mainstay on Sydney's cultural scene and an omnipresent voice for women of colour and for Western Sydney.
2.30pm - 3.15pm - When Mother Comes to Visit
Make yourself at home in our musical lounge room with "When Mother Comes to Visit... (WMCTV)"
Ben Palumbo, (The Voice Australia, Britains Got talent), Ann Laszlo and Paolo Campanari Brancondi are a charismatic ensemble who perform a broad range of music drawn from many influences. This dynamic trio brings you acoustic arrangements of popular songs often in the style of Postmodern Jukebox, including material loaned from Sia to Cohen, to original compositions, pop, jazz, French chanson and beyond!
With Ann seamlessly switching from mandolin to guitar, vocals and double bass, Ben's vocal gymnastics including an impressive falsetto extension as seen on The Voice Australia and the comedic and highly entertaining Paolo on piano and accordion, audiences are well assured of an eclectic and mesmerizing experience.
3.45pm - 4.30pm - Cope Street Parade 
Sydney born and bred, The Parade does love songs like no others can.
In their 11th year the Cope Street Parade are considered one of Australia's most established creative music ensembles. They blend spicy rhythms with unique song-writing that span the genres of jazz, folk, pop, gypsy and swing. With tender ballads and rollicking dance numbers they capture the spirit and warmth of early music styles and cheekily blur the lines between the contemporary and the classic. Influences include Louis Armstrong, Louis Prima, Father John Misty and Leadbelly.
4.45pm - 5.45pm - True Vibenation
True Vibenation combine an irresistible blend of soul, afrobeat and hip hop backed by big bass, big beats and live horns.
The spirit of community and conscious music lies at the heart of True Vibenation's manifesto and it has earned them a reputation across the world for an electric and infectious live show, which includes all three artists singing, producing beats and playing horns live on stage.
Sunday 27 June
2.30pm - 3.15pm - Kate Wadey
Vocalist Kate Wadey's is quickly gaining recognition for her sweet, sure and rich voice that exudes effortless charm and sophistication. Warmly embraced by a band of excellent and celebrated accompanying musicians, Wadey sings standards and her own originals, selected for their particularly fine character. Without fuss or bravado but with pure assurance, she navigates the emotions and melody with equal skill; a brilliant young artist displaying a level of craft beyond her years, and producing fine, characterful and swinging jazz fare for the ears.
3.45pm - 4.30pm - Ella Haber
Since releasing her first single in February 2019, 21-year-old Sydney artist Ella Haber has made her arrival known.
After receiving support for her debut EP, CLAY, from local and international radio (BBC 1XTRA, MiSoul, Jazz FM, Worldwide FM, triple J, FBi radio) Ella went on to sell out her first Sydney show, and complete her first East Coast headline tour, in celebration of the Jordan Rakei-produced record. Following her tour up with supports for the likes of Julien Dyne & Lord Echo, Ella's reputation as a multi-instrumentalist – playing piano, trumpet and guitar – and powerfully evocative songwriter is weaving it's way through her communities, both at home and abroad.
4.45pm - 5.45pm - Natalie Slade
Natalie Slade is a Sydney-based neo-soul powerhouse redefining the boundaries of her genre.
Her powerful and stunning debut album 'Control' sees Natalie showcasing her depth of artistry and storytelling. Released on Eglo records and produced by Hiatus Kaiyote's Simon Mavin, the album has quickly gained worldwide attention from tastemakers such as Gilles Peterson (BBC Radio 6), J. Rocc (KPFK) Anthony Valadez (KCRW) and Nkechi Anale (JJJ). 
A prolific collaborator, Slade is well-respected within the jazz, soul and hip hop scenes for her recognisable and innovative musicianship. She has collaborated with artists such as Katalyst (Space Invadas), Steve Spacek and Plutonic Lab, featuring on their 2018/2019 releases.
Saturday 3 July
DJ NAIAN
Born in Lismore, Naian is a graduate of NAISDA Dance College and has performed all over Earth. NAIAN, has also sat on both First Nation Media Australia's Content Sharing and Indigitube Advisory Panels, and also the panels of CBAA/CRN's National Features and Documentary Series, Spotify Bootcamp and First Sounds too. Keep an ear out for DJ Naian around Sydney over NAIDOC Week. Naian also loves to podcast, and produces The Drift Zone podcasts via Tunnel Road Productions, and in February 2021 also launched The Current Motion, an online radio station AMPLIFYING LGBTIQA+ VOICES!!!
2.30pm - 3.15pm - Indira Elias
Indira Elias is an artist that coos on the breeze of a wistful, honey love. Her poetry caresses a tender heart and melts a hardened one, wooing listeners across the seas and luring them out of reality with powerful, transportive soundscapes. 
Her band, featuring some of Sydney's most brilliant rising talent (KIRI, Zigi Blau-FOSHE, Ida Warhol and Jarvis Morrow), gathers to create otherworldly spaces of healing, as they relay stories of living and feeling. 
Indira's self-produced, debut album, "Songs From a Moon//Songs by the Sun", will be out in the coming months.
3.45pm - 4.30pm - Mariam Sawires
Raised in a large family obsessed with music, Egyptian-Australian singer-songwriter, Mariam Sawires has valiantly picked up the talent torch to launch her own career. From an early age, she was exposed to a cacophony of sonic influences - introduced to Lauryn Hill, Stevie Wonder and Queen by her mother, taught traditional Arabic rhythms from her professional tabla playing father. Together with her formal musical training and classical education in the bank, Sawires took off to travel the world.
Her stories have been praised by triple j's Richard Kingsmill, Unearthed, Double J, FBi Radio, Pilerats, Purple Sneaker, Sniffer's Mag, POCC Mag, The Partae, Fashion Journal and BIGSOUND. 
4.45pm - 5.45pm - Nardean
Born and bred in Sydney's west to an Egyptian family, Nardean began her musical exploration at the age of 22. After a few short years of exploring her voice, she has cemented herself as a force to be reckoned with.
Nardean effortlessly traverses rap, singing and poetry in a genre she describes as "post-hop;" influenced by hip hop, while also drawing on elements of neo-soul, electronica, glitch and RnB.
After releasing her debut record "Creatress" in 2019 to a resounding round of industry applause, she has recently released her second EP 'THE NEW ERA', with support from Campbelltown Art Centre and CreateNSW.
Sunday 4 July
2.30pm - 3.15pm - Hylander
Proud Gadigal artist; Hylander crafts a new wave of Australian electronica, creating a unique blend of modern sound design with every genre he touches.
Expect a dynamic range from cosmic soundscapes to warm, energetic grooves.
"Take a tablespoon of Flume's glitchy synths, mix it with a cup of Crooked Colour's brooding dark pop melodies and sprinkle with the vocal talent of some perfectly picked collaborators and you have yourself a Hylander track"
"Hylander paints sonic landscapes that'll make you feel like you're dreaming, floating or both at the same time.
- Triple J
3.45pm - 4.30pm - Bow and Arrow
Bow and Arrow are a Contemporary First Nations electro-soul trio (Wiradjuri/Gamilaraay/Dhudhuroa) operating out of Cammeraygal Country of the Eora Nation. As multi-instrumentalists their unique live show sees them create an eccentric experience right before your very eyes as they continually cross live between instruments. You can expect a big vibe with a mix of modern day and traditional FN instruments, monster vocals, jungle rhythms with electro beats, funky guitars, weird gadgets, live sampling, looping and a whole lot of heart!
4.45pm - 5.45pm - Tessa Thames
MOTHER. DAUGHTER. SISTER. AUNTY. SINGER. SONGWRITER. FIRST NATIONS. CENTRAL COAST NSW.
The Spice Girls, The Fugees, TLC, Shania Twain, Natalie Imbruglia, Mariah Carey, The Cardigans… Tessa Thames' Dad ran a karaoke business in the 90's where she operated as a 'warm up' of sorts, taking the mic first with the hopes of encouraging others to follow suit. It was a delicate balancing act: being good enough to entertain whilst trying not to intimidate punters. Through this, Tessa cultivated her love of music and songwriting, absorbing her dearly held 'Top Of The Pops' 90's nostalgia like a sponge. Now she's squeezing it all out as something of her own.
Some may recognise her as the voice of folk act Microwave Jenny, having toured Australia, NZ, Asia, the UK and playing festivals such as Bluesfest (Byron Bay), Woodford Folk Festival (Woodford), Friendship Festival (Seoul) & The Aussie BBQ (UK). Her music has been featured on television series Gods of Wheat Street (ABC1), Redfern Now (SBS), Offspring (Network 10), Winners & Losers (Seven Network) & Underbelly Chopper (The Nine Network). Now Tessa Thames unleashes her modern 90's nostalgic pop on the world without any concern for who might be intimidated.
Saturday 10 July
4.45pm - 5.45pm - Pirra
Pirra are a quartet based in Wollongong making strikingly danceable indie-pop. Their sound mixes live instrumentation with washes of synth and programmed sounds to support the silken melodies of frontwoman Jess Beck. Since signing with UK label Cr2 Records they have teamed up with leading producers such as Konstantin Kersting (Tones & I), Roy Kerr (London Grammar) and Sam Littlemore to work on a suite of songs. Their single 'Limousine Lies' was remixed by renowned dance producers Linstrom and Prins Thomas. Earlier this year they worked with Sam Littlemore of the acclaimed electronic trio PNAU. Pedestrian TV filmed their collaboration in a 3 part mini series documenting the creation of their newest single 'Never Apart' which is due for release June 18. Pirra's live show has evolved into a seductive blend of infectious modern pop which will bring you to the dancefloor for an immersive experience. The second half of 2021 is sharing up nicely as Pirra looks foward to playing more shows and releasing their new music with some exciting collaborations up their sleeve.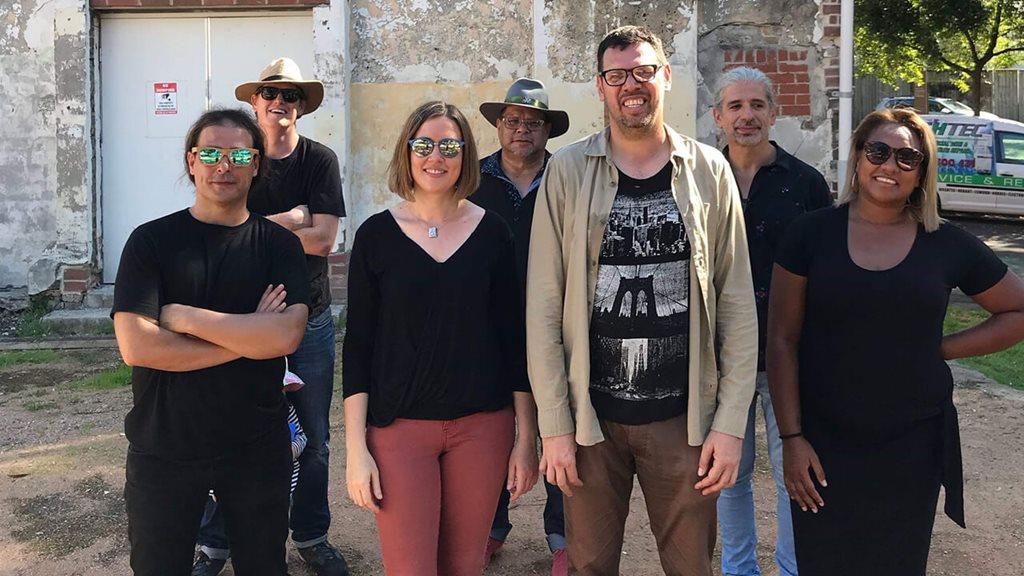 Sunday 11 July
2.30pm - 3.15pm - Radical Son
3.45pm - 4.30pm - Bow and Arrow
4.45pm - 5.45pm - Green Hand Band
Poverty, racism and inequality are cornerstone concepts Redfern-based reggae fusion group Green Hand Band aims to break down barriers about. Drawing musical influences from soul, reggae and desert rock genres, the group uses music to raise awareness of issues such as recovering from addiction, spiritual empowerment, love and social justice. Key writer, keyboard player and vocalist, Tim Gray leads the band bringing an infectious passion to the stage.
The Gumbaynggir/Wiradjuri man born in Macksville, NSW, and growing up in the East Hills along the Georges River, Tim was influenced by the likes of Bob Marley, Warumpi Band and Coloured Stone. He started playing piano at his foster mother's prompting and the music grabbed a hold of him; he started writing his own songs and playing in bands. "I want to make music that heals, that breaks down barriers and explores the human condition," Tim says.
The band released its debut EP in November, 2014 as part of Corroboree Festival in Sydney after recording earlier in the year at Kameygal Studio housed in Gadigal Informatoin Services in iconic Redfern, Sydney. Currently playing the new EP Connections with songs that focus on connection to culture First Nations people have, love and addiction.
Playing at Waitangi Day 2018, Lost Paradise at Bordi tent 2017, Burramatta NAIDOC 2017, Inner City NAIDOC Family Day at NCIE 2017, Coloured Diggers March 2016/2017, NAIDOC in the City 2016, Yabun 2015, and performing regularly in the Sydney live music scene. Green Hand Band has collaborated with Jamaican artist Ras Daniel Ray during his last Australian tour.
Saturday 17 July
2.30pm - 3.15pm - HIA
HIA, is an alternative hip-hop group made up of David hilton and Nancy Denis – are brother and sister trio for together produce right and perform original tracks inspired by their lives growing up Asian in Australia. The music is an electric fusion of hip-hop R&B funk and soul inspired by great artist such as our cars and the Fugees. David David Denis the resident rap of the group started playing piano from there very young age of seven, making music with his unique vocal tunes and lyrics. With his two younger siblings in tow inspired by David style and love for the performing arts HIA was born. Hilton denis picked up the guitar in his late teens and never put it down. Adding drums piano bass guitar and production to his list of self taught skills he is the main producer for the family bad HIA and the glue that holds them together. Nancy Denis started belting tunes from the tender age of eight and continued to find tune her vocals into an authentic sound. I spoken word poet and writer hilarious leaves you with the seeds of thought to ponder. She is the Kool-Aid with her brother David adding volumes of female power to this triple act. After years spent exploring their own individual talents HIA has finally united to create music that is undeniably unique in bodying themes of identity, culture and togetherness. The first release from HIA is a single title black cowboy and is slated for release on the 23 April 2021.
4.45pm - 5.45pm - Klue
Klue's Afro-centric dance music fuses broken beats, blaring horn sections and powerful vocals. 
Influenced by the Afrobeat of Fela Kuti and Tony Allen, as much as the electronic sounds of Jamie XX and Burial, and the soul of Otis Redding.
He has remixed for Pnau, toured UK with Dub FX, played Glastonbury Festival, and had his songs played by Jax Jones on BBC Radio 1, in between constant touring, based out of Berlin in recent years.
Covid called for a big change of pace, which has given Klue an opportunity reconnect with the music community that raised him and focus locally.
Switching between vocals, the saxophone, live beats and mbira, Klue is also joined onstage by multi instrumentalist Dom Diaz.
Klue is also one-third of True Vibenation, and co-host of Bare Necessities on FBi Radio.
Sunday 18 July
2.30pm - 3.15pm - RISSA
Australian/Polynesian artist RISSA creates music with untainted soul. Inspired by the worlds of Neo-Soul and R&B, RISSA sings about her real life experiences and translates them through luscious blends of soulful melodies, silky harmonies and rhythmic grooves forming the layers of her sound.
Built on years of collaboration with artists and producers around Australia, RISSA has earnt her seat at the table as one of Sydney's finest vocal talents.
3.45pm - 4.15pm - Ms Thandi
Ms. Thandi is an independent, R&B singer/songwriter whose nostalgic, soulful and sensual sound has taken over the conversation regarding Sydney's new wave of female creatives. Her early exposure to music provided a multitude of creative influences; from Old Soul to Jazz, 1990's Hip-Hop and RnB that are all so aligned with her creative processes. Ms. Thandi's groove and energy can be felt through her charming and individualist lyrics and instrumentation. Citing influences such as Erykah Badu and Alicia Keys, Ms. Thandi is no stranger to love songs, a staple of her extremely diverse palate of creative styles. Ms. Thandi issued her coveted debut single "On the Table" in November 2019. This was soon followed by, "HUNNY" in February 2020. In light of her recent success as a BIGSOUND50 showcase artist for 2020, Ms. Thandi has put the infrastructure around herself to deliver her first upcoming Extended Play, "Every Song Is A Love Song", due early 2021.
4.45pm - 5.45pm - Lady King
Never miss out on events
Get updates on the latest events from The Rocks.