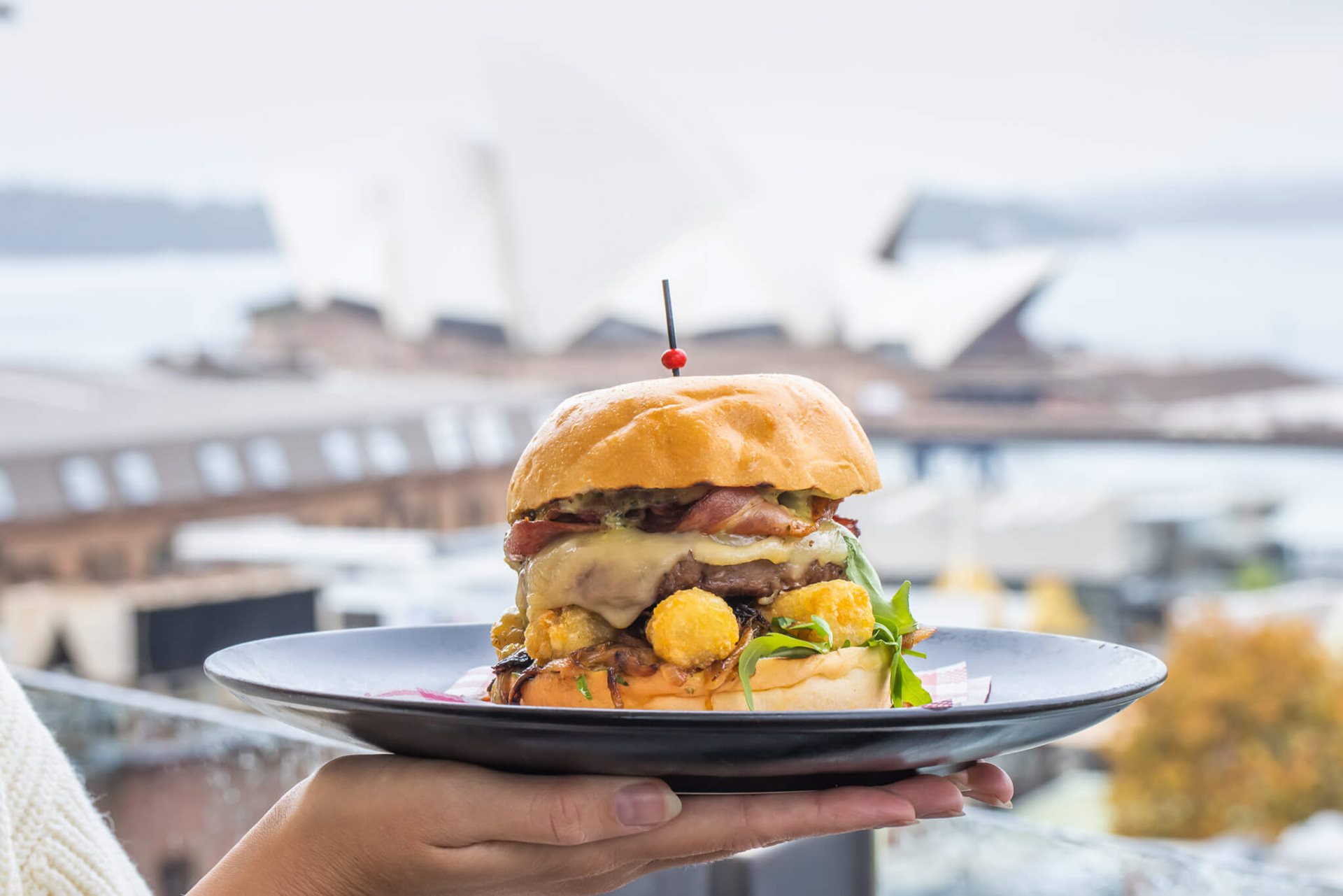 International Burger Day
The Rocks Burger Takeover
We invited revellers to take their tastebuds on the trip of a lifetime with outrageous and one-of-a-kind burgers creations.
Juice dripping down your chin. Gooey cheese melting over a juicy beef patty. Tangy burger sauce and zingy pickles encased by pillowy buns. There's nothing quite like a good old fashioned burger.
In honour of International Burger Day, we challenged some of the best chefs in The Rocks to cook the most delicious, outrageous burgers they could imagine. Now we're challenging you to find them and taste them all.
They're only here for a limited time so you better get moving!
Deep fried cheese burger | The Mercantile
A burger so crazy it works - The Merc's beef burger deep fried and covered in mozzarella sauce.
The Mercantile serves one of the best pub-burgers in Sydney, so when they put their heads together to figure out how to make them even better they were stumped. That is until one brilliant madman asked:
"Why don't we deep fry it?"
The team in the kitchen added smoky Jameson sauce and smashed avo to their beef burger, dipped it in the deep fryer then slathered it in mozzarella sauce - and we can confirm, it's delicious. This beautiful monstrosity is on the menu for a limited time for International Burger Day.
Visit The Mercantile Hotel
The Cow-n Jewels | The Glenmore Hotel
The Glenmore have taken the classic pub burger to new heights with this beautiful creation.

The Glenmore elevate classic Aussie pub fare by cooking it just right with fresh Australian produce - they've done it again with their hearty cow and jewels burger.
This little beauty features a juicy beef patty (the cow), potato gems (the jewels), beef dripping onions, streaky bacon, rocket, cheddar and ranch mayo, served within soft milk buns with chips. Best consumed on the Glenmore's incredible rooftop with cold drink in hand.

Visit The Glenmore
Le fancy burger | Mrs Jones and The Orient
With luxurious Wagyu beef, maple bacon and truffle mayo, this is one boujee burger.

The boujee geniuses at Mrs Jones and the Orient have crafted a burger so fancy, you'll want to eat it with your pinky sticking out.
'Le fancy burger' features Australian Wagyu beef, American cheese, maple bacon, hash brown, caramelised onions, tomatoes, lettuce and pickled zucchini. Just in case that's not fancy enough for you, it's drizzled in truffled mayo and served with fries.
Available from Monday 23 till Sunday 29 May for $21.50
Visit The Orient
Pollo Parmigiana Burger + Meatball Burger | Caminetto
Italian cuisine and burgers have never really mixed - until now. The geniuses in the kitchen at Caminetto have created delicious Italian burgers all served with delicious fries. The Pollo Parmigiana burger features tender crumbed chicken, melty provolone, grilled eggplant, lettuce, tomato and basil with guacamole & chilli mayonnaise sauce. On the other hand, the Meatball Burger features - you guessed it - meatballs, spaghetti, cheese, lettuce, tomato and basil.
Visit Caminetto
Strawberry and cream dessert scone burger | The Tea Cosy
This dessert burger features buttery scones and a moreish strawberry cream filling.
Ever had a dessert burger? Neither have we, but Tea Cosy are giving us all a chance to try one this International burger Day.
They've created a delectable, buttery scone burger, slathered with sweet strawberry and cream fillings. This is a rare and perfect excuse to have a burger for dessert after having a burger for dinner!
Visit The Tea Cosy
Fish burger | Pony Dining
Wood fired jalapeno aioli adds a little spice to this super fresh crumbed fish fillet burger.
Pony Dining sources the finest cuts of meat and freshest Australian produce, then adds smoky flavour by preparing almost every dish on their traditional open woodfire.
They've done the same thing for burgers, preparing a crumbed fish fillet burger that's enlivened by a wood fired jalapeno aioli and thick cut pickles. Like a fillet-o-fish, but 1,000 times tastier.
Visit Pony Dining
Ayam Geprek | ASLAN Coffee Roasters
ASLAN has created a spicy, fresh fish burger inspired by the cuisine of Yogyakarta Indonesia.
ASLAN Coffee Roasters serve one of Sydney's best flat whites with beans sourced ethically from Indonesia. Now, to celebrate International Burger Day they're mixing it up with a unique burger inspired by the cuisine of Yogyakarta, Indonesia.
This little beauty contains Ayam Geprek, an Indonesian crispy battered, fried chicken served with a homemade hot and spicy sambal (chilli sauce).
Visit ASLAN Coffee Roasters
Smoky beef brisket burger | Fine Food Store
Mind-blowingly tender brisket in a super soft bun with delicious homemade pickles.
When brisket is cooked low and slow - just right - it melts in your mouth and bursts with epic umami flavour. That's why The Fine Food Store's new burger is our favourite.
This juicy masterpiece features smoky beef brisket, with homemade BBQ sauce and pickles, melted American cheese and a punchy pickled slaw. Yum.
Visit The Fine Food Store
Aussie 'roo burger | The Australian Heritage Hotel
The Australian Heritage Hotel have crafted the world's most Aussie burger to celebrate International Burger Day.
The Australian Heritage Hotel has crafted the most Australian burger of all time - the Aussie roo burger. This true blue creation features a juicy kangaroo patty, streaky bacon, sweet potato fritter, pickled beetroot, lettuce, cheese and chipotle mayo all between pillowy milk buns. Bonza.
Chips come with the burger and it pairs perfectly with most of the Aussie craft beers on tap.
Visit The Australian Heritage Hotel
Chipolicious burger | The Fortune of War
Sydney's oldest pub are serving a unique burger that tastes like nostalgia and deep fried chippies.
The Fortune of War is Sydney's oldest pub and every inch of this iconic place drips with nostalgia. That explains why they've recreated an old favourite for International Burger Day - the chip butty!
Their chip butty burger features a soft white bun, Fortune hot chips and sweet chilli potato crisps all drizzled with sour cream and gravy. It might just be the best chip butty we've ever had.

Visit Fortune of War
Lamb kofta burger | Terrace by Tayim
Terrace by Tayim have taken the humble burger and improved it with a Middle Eastern twist with delicious hummus and tender lamb koftas.
Tayim serve elevated Middle Eastern cuisine in a gorgeous sandstone cavern in The Rocks, and now they're getting into the burger game to celebrate International Burger Day.
Their burger features tender lamb koftas, cushy buns, hummus, zhoug, shifka, tomato, onions and amba. This bad boy beats a takeaway kebab any day.
Visit Tayim
The Dub at Butter
Remember the KFC down? Well Butter's new burger - The Dub - makes it look like a garden salad.
This beautiful, outrageous burg was named to commemorate the 25th anniversary of Wu-Tang's legendary second album Forever.
It features two fried chicken thighs as buns, filled with mashed potato, ramen gravy, fries, bacon strips, and of course, maple syrup. It's so massive and unwieldy that you almost need a knife and fork to eat it (and you'll definitely need a napkin).
The Dub is at Butter for a limited time for $25 ($1 for every year since Forever's release).
Visit Butter
Stacked Burger | Endeavour Tap Rooms
A serious burger, built to be paired with an ice-cold Australian craft beer fresh from the tap.
Peanut butter and jelly, Ron and Hermoine, beers and burgers. Some things are just better when they're together, and that's the idea behind The Tap Room's delicious stacked burger.
This bad boy comes piled high with double beef patties, double cheese, bacon, jalapenos, two wings on top and fries - and pairs perfectly with most of The Tap Room's delicious local craft beers.
Visit Endeavour Tap Rooms
Au Poivre Burger | Bar Mille
Bar Mille will be preparing to celebrate the most delicious day of the year with their mouth-watering Au Poivre Burger. With a beef pattie, crispy bacon, crispy fried onion, shredded lettuce, cheddar and peppercorn sauce you don't want to miss out on the tastiest special!
Visit Bar Mille
Full-Rigged Burger | The Keel
The Keel's monster includes house minced beef pattie, jerk crumbed chicken, bacon, and hickory bbq sauce served on a donut bun.
Visit The Keel
Never miss out on events
Get updates on the latest events from The Rocks.