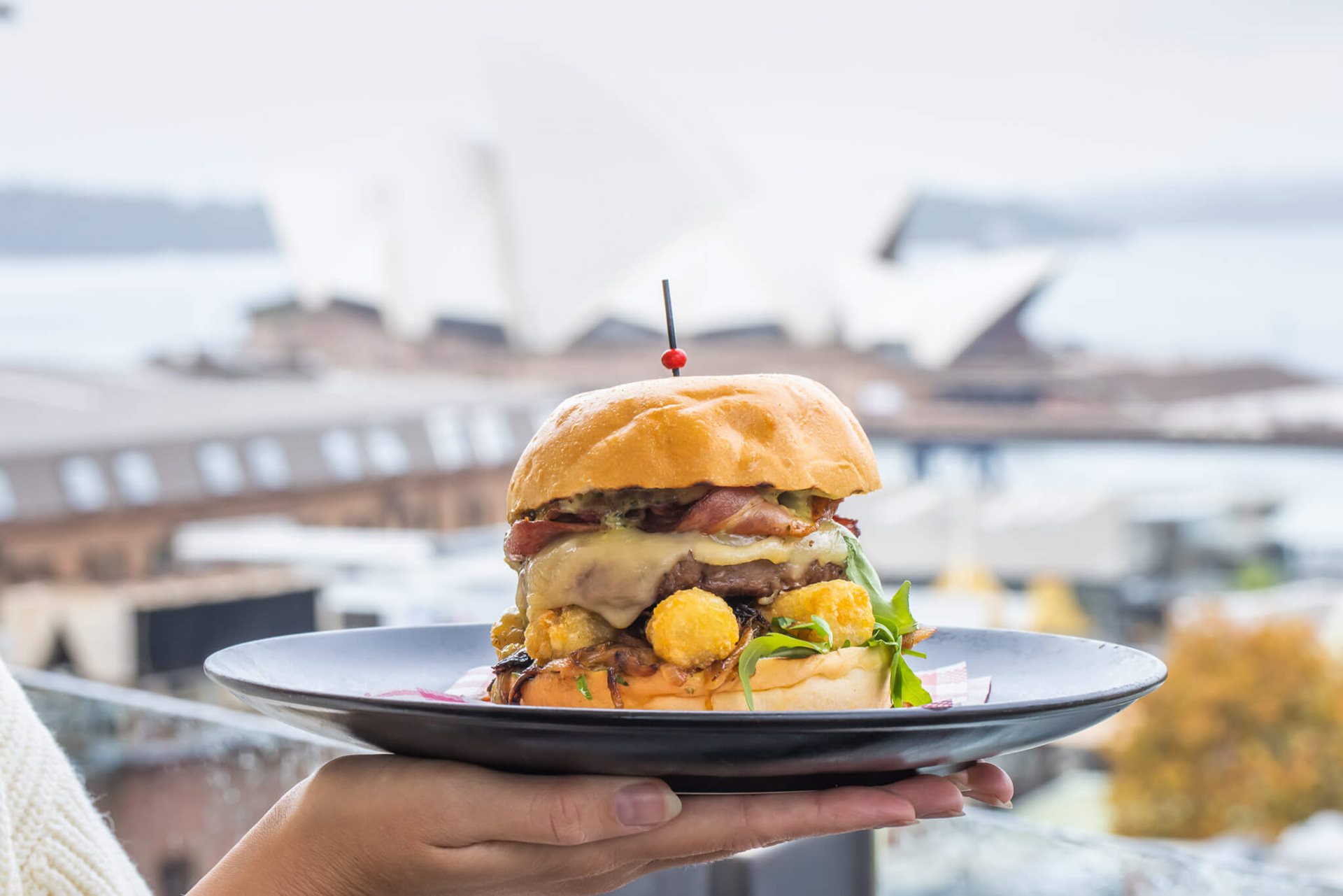 International Burger Day
The Rocks Burger Takeover
We invited revellers to take their tastebuds on the trip of a lifetime with outrageous and one-of-a-kind burgers creations.
Juice dripping down your chin. Gooey cheese melting over a juicy beef patty. Tangy burger sauce and zingy pickles encased by pillowy buns. There's nothing quite like a good old fashioned burger.
In honour of International Burger Day, we challenged some of the best chefs in The Rocks to cook the most delicious, outrageous burgers they could imagine. Now we're challenging you to find them and taste them all.
They're only here for a limited time so you better get moving!
Deep fried cheese burger | The Mercantile
A burger so crazy it works - The Merc's beef burger deep fried and covered in mozzarella sauce.
The Mercantile serves one of the best pub-burgers in Sydney, so when they put their heads together to figure out how to make them even better they were stumped. That is until one brilliant madman asked:
"Why don't we deep fry it?"
The team in the kitchen added smoky Jameson sauce and smashed avo to their beef burger, dipped it in the deep fryer then slathered it in mozzarella sauce - and we can confirm, it's delicious. This beautiful monstrosity is on the menu for a limited time for International Burger Day.
Visit The Mercantile Hotel
Lamb kofta burger | Terrace by Tayim
Terrace by Tayim have taken the humble burger and improved it with a Middle Eastern twist with delicious hummus and tender lamb koftas.
Tayim serve elevated Middle Eastern cuisine in a gorgeous sandstone cavern in The Rocks, and now they're getting into the burger game to celebrate International Burger Day.
Their burger features tender lamb koftas, cushy buns, hummus, zhoug, shifka, tomato, onions and amba. This bad boy beats a takeaway kebab any day.
Visit Tayim
Strawberry and cream dessert scone burger | The Tea Cosy
This dessert burger features buttery scones and a moreish strawberry cream filling.
Ever had a dessert burger? Neither have we, but Tea Cosy are giving us all a chance to try one this International burger Day.
They've created a delectable, buttery scone burger, slathered with sweet strawberry and cream fillings. This is a rare and perfect excuse to have a burger for dessert after having a burger for dinner!
Visit The Tea Cosy
Balinese Chicken Burger | ASLAN Coffee Roasters
Come and celebrate International Burger Day with ASLAN's limited offering of Balinese Chicken Burger & Bali Kintamani Honey Process Cold Brew. Shredded chicken breast marinated with bold and refreshing mildly spiced Balinese salsa made from chilies, lemongrass, kaffir lime leaves & toasted shrimp paste, topped with greens & fresh tomato on milk bun.
Visit ASLAN Coffee Roasters
Stay up to date
Get the best of The Rocks straight to your inbox.