The Rocks Picnic
5 amazing ways to enjoy The Rocks Picnic every Sunday
Grab your picnic basket and your favourite people - The Rocks Picnic is here! We're celebrating the start of Spring with a picnic style market, live music and outdoor yoga every Sunday, 10am - 3pm.
If you're feeling like you've already done all the things there is to do in Sydney, we've got a fabulous new experience for you!
Sydneysiders will be able to fill up their baskets with snackable and fresh produce from a range of stalls, before finding the perfect spot overlooking Sydney city's iconic Harbour.
Here are 5 things that should be at the top of your list of things to do in Sydney this weekend. And don't forget to take advantage of the weekend $5 parking deal.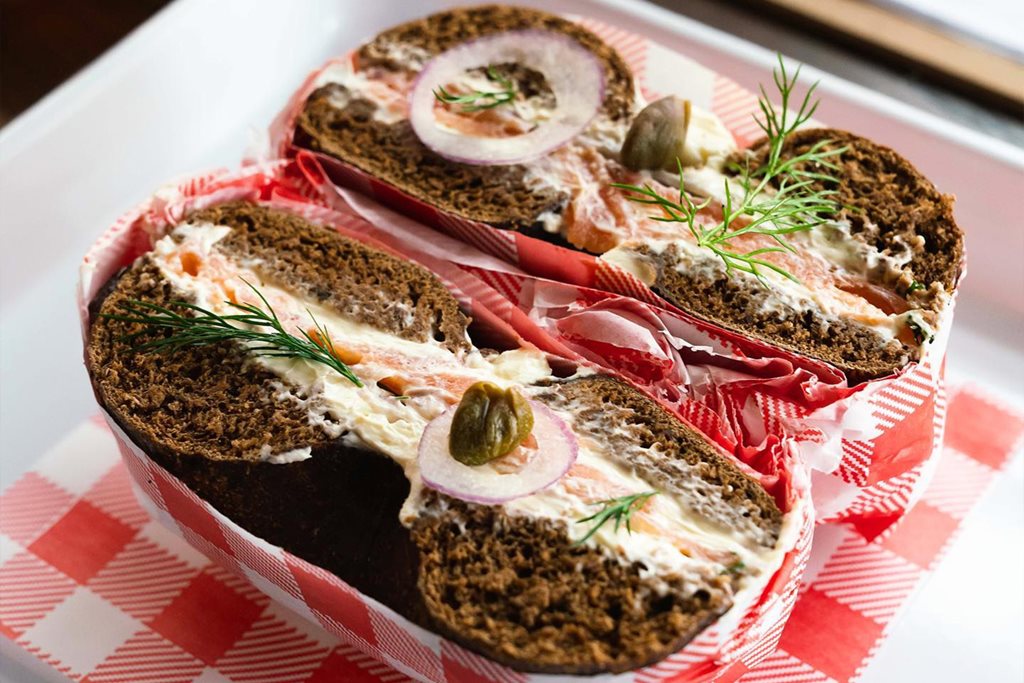 Delicious bread, bagels and pastries at Brooklyn Boy Bagels
Kick things off at Brooklyn Boy Bagels with a delicious range of authentic (and all-vegan) New York bagels. There are all the flavours you could imagine, from simple sesame right through to their Instagram-worthy, world-famous rainbow bagel.
For maximum enjoyment, try your bagel (or artisan bread) with their housemate cream cheeses. Polish it off with NYC-inspired cookies and pastries.
Platter up with Backa Sydney and Ritas Farm
Making for the perfect picnic platter, a visit to Backa Sydney is definitely required for their mini prosciutto, red wine salami and wood smoked feta selections.
For the veggie side of things, Ritas Farm has everything sorted, from pickles to fruit spreads and other snack foods, ensuring your feast is complete.
Indulge your sweet tooth at Gelatissimo and satisfy cravings with Bondi Oysters
But wait! You can have your dessert as Gelatissimo brings their renowned gelato cart with oodles of mouth-watering flavours to choose from. Or, you can indulge on Bondi Oyster's freshly shucked produce. Or splurge on both. We won't judge.
Before laying down your picnic rug and setting up for the day, make sure you visit the sustainable and plastic-free business #untrashy for your bamboo cutlery swag and squishy unsmashable cups.
Enjoy yoga, live music and GIANT snakes & ladders
You can start your day out in Sydney this weekend with a morning stretch at the 10am and 10.30am free yoga session at First Fleet Park. The sparkling Sydney harbour views are sure to channel them Zen vibes. Then, release your inner kid and try your hand at giant snakes & ladders. Some of Sydney's best up and coming musicians will also be joining in the fun from 11am - 3pm, bringing their laidback acoustic sets for people to enjoy, either while feasting on their picnic goodies or while they take part in a range of activities.
Wrap up with some retail therapy
Wrap up your Sunday picnic and spend the remainder of the afternoon strolling through The Rocks Markets, discovering the cobblestone laneways full of local, handmade homewares, fashion and fresh treats. Or if you feel like popping indoors for a refreshing drink, check out one of the many local pubs.
The Rocks Picnic is the best thing to do in Sydney to shake off the lockdown dust - see you there soon!