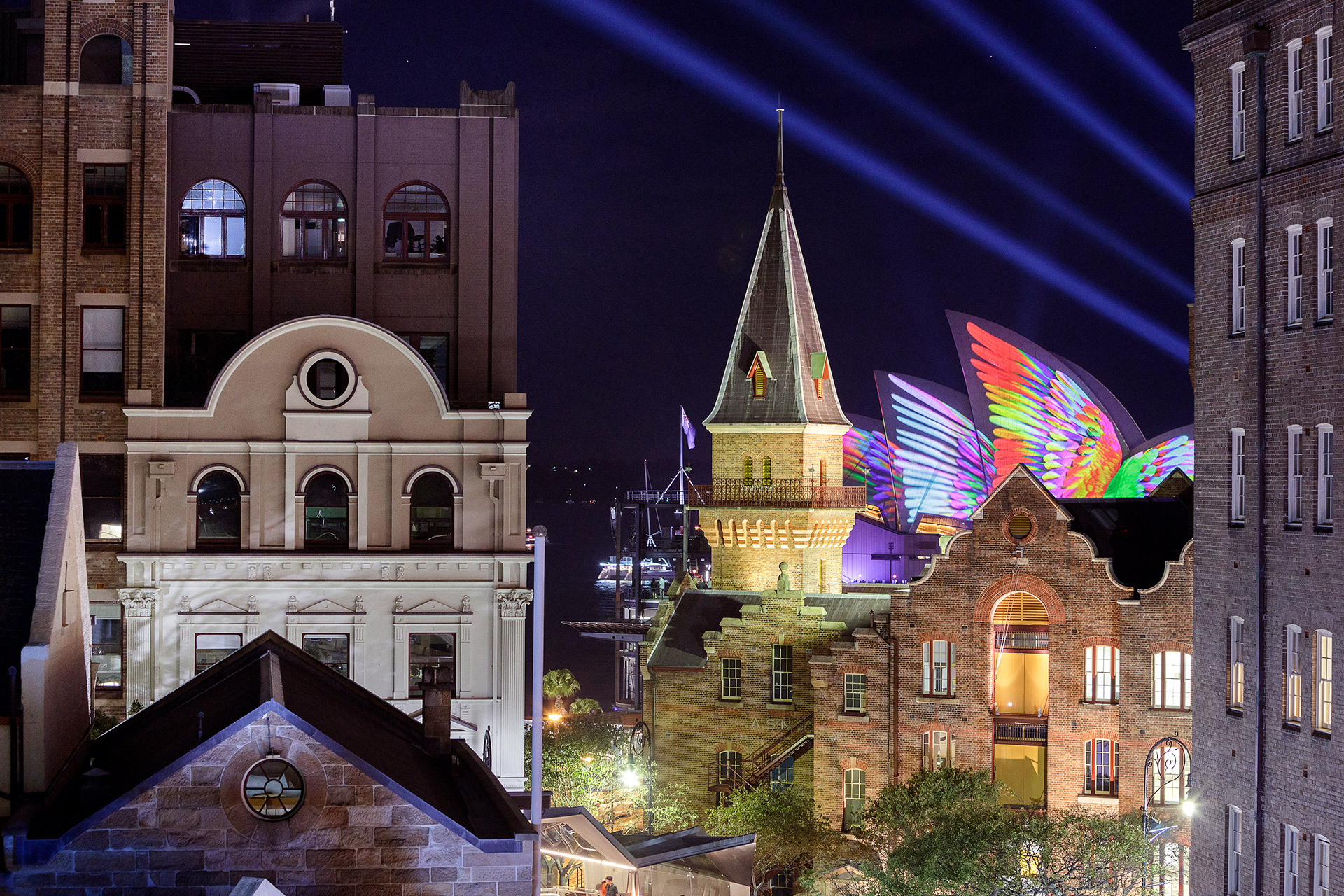 Festival of light
Vivid Sydney
Vivid Sydney will be returning to Sydney from 27 May - 18 June, 2022.
The city's oldest precinct will come alive with light, colour and creativity, attracting leading sculptors, thinkers and artists from all over Sydney and the world.
As part of this exciting Sydney event, the cobbled streets and sandstone walls of The Rocks will host light sculptures that are guaranteed to intrigue, entertain and provoke thought. Alongside the sculptures, creatives from all over the world will share their ideas through comedy, panel discussions, workshops and inspiring talks hosted throughout the city. 
There are countless ways to experience Vivid Sydney, but only one place to see the best of it. The Rocks!
From 6pm each night, you can expect incredible 3D projections and light shows transforming public spaces and architecture around The Rocks waterfront areas.       
You may come for the light and warmth of Vivid Sydney, but you'll want to stay for the incredible eating, drinking, and entertainment on offer in The Rocks. 
If you're a fan of French pastries (who isn't) you'll need to visit La Renaissance Cafe, known for baking Sydney's, and perhaps Australia's, best. For a classic Australian pub meal with a stunning panoramic view of Sydney, visit The Glenmore Hotel and grab a seat on their bustling rooftop. 
For dinner, don't miss Sergeant Lok. They serve a menu of refined Asian fusion cuisine and cocktails in a heritage space that was once one of Sydney's main jails. If you fancy a beverage after dinner, head to Frank Mac's where you'll find a selection of over 120 gins, crafted cocktails and a restored heritage space to relax in. 
Staying in The Rocks
Visit The Rocks during Vivid Sydney and, trust us, you're going to want to stay a little longer! There are countless luxury hotels and affordable options here, many of which may have views over the precinct's light sculptures:
Shangri-La Sydney: for unparalleled views over Sydney Harbour and a little luxury.
Park Hyatt Sydney: modern, intimate accommodation right on the harbour's edge.
Sydney Harbour YHA: budget friendly accommodation with rooftop harbour views.
Harbour Rocks Hotel: boutique accommodation inside a restored heritage building.
Check out the full range of places to stay in The Rocks here.
Getting to The Rocks
Getting to The Rocks is as easy as a hop, skip and a jump - whether you're walking, cycling or taking public transport:
Train: The Rocks is just a short walk away from Circular Quay and Wynyard Stations.
Ferry: Catch a ferry to Circular Quay and you're just a few minutes walk away.
Bus: For buses travelling through the CBD along Elizabeth Street, get off the bus at Bridge Street and head north to The Rocks. Bus stops are also located along Alfred Street.
Light rail: The L2 Randwick and L3 Kingsford services end at the doorstep of The Rocks on Alfred Street.
Walk: The main entry point to The Rocks is via George Street.
Bicycle: there are bike tracks into The Rocks from all directions and convenient bike racks throughout.
Find more information on getting to The Rocks here.
Find out what's happening at Vivid Sydney
Be the first to find out about Vivid Sydney at The Rocks as well as other exciting events and offers.