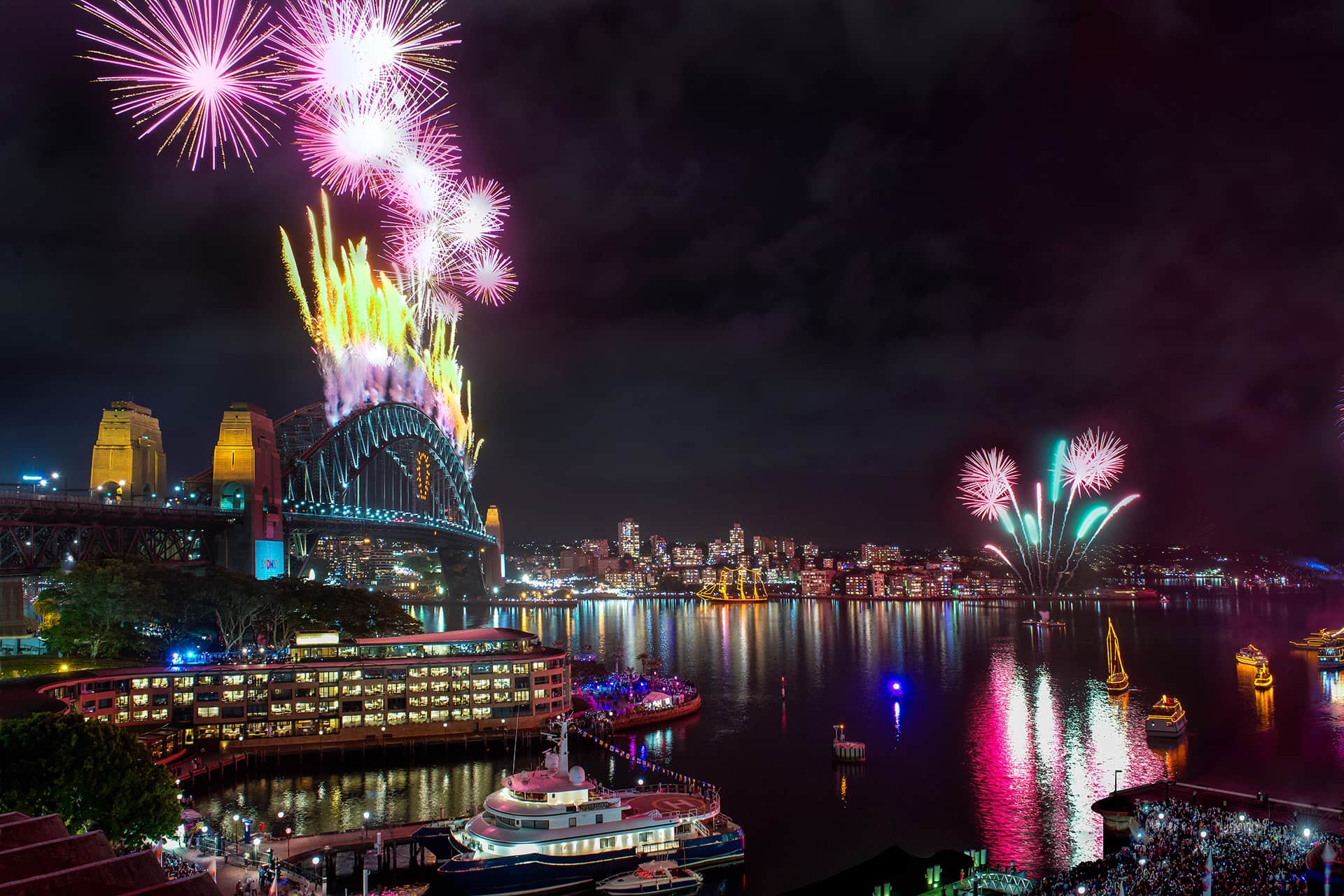 Sensationally Sparkling
New Year's Eve
Say goodbye to 2023 in style with some of the best vantage points on Sydney Harbour and The Rocks.
Experience the ultimate New Year's Eve celebration at The Rocks, where you'll find the most incredible views to witness the breathtaking fireworks display.
This year, all vantage points will be FREE - No tickets required.
Join the fun at places like Dawes Point Park, Hickson Rd Reserve, Campbells Cove, West Circular Quay, and East Circular Quay.
No special spots or reservations, it's first-come, first-served. We'll make sure it's safe with capacity limits. Once a spot's full, it's closed, so come early! No pass outs this time, though.
You can also indulge in a culinary journey like no other with an array of fabulous food and drinks venues that cater to every taste. From Sydney's oldest pub to a selection of top-notch restaurants and rooftop bars boasting panoramic views of the harbor, your evening will be filled with unforgettable moments.
Transport
There will be road closure in The Rocks from 2pm.
Large crowds are expected on New Year's Eve. If you travel into the city, plan your trip and arrive early.
Accessibility
An accessible pick-up and drop-off point will be available at Argyle Street near Watson Road.  Access to the pick-up and drop-off point will be closed between 10pm 31 December to 1:30am 1 January 2024 to safely manage crowds and road closures in the area.  Please ensure you plan ahead. For more information, contact the City of Sydney's Accessibility Officer on 02 9265 9333 or nyeaccessandinclusion@cityofsydney.nsw.gov.au
Getting home
Getting out of the city is different on New Year's Eve. The way you come in will be different to the way you leave. There are many roads closed to people walking, driving and cycling, so follow directions and check signs.
Be prepared for a longer walk to buses and trains. Some train stations may have different entry and exit points.
Try to leave the city after 1am to avoid the crowds.
Live updates
Follow @BusesInfo, @TrainsInfo and @FerriesInfo on Twitter for up-to-the-minute information and stay connected with a real-time transport app. For real-time updates on road closures and traffic, follow @LiveTrafficSyd.
Visit Transport Info  for details on services.
What's happening this NYE in The Rocks
Frequently asked questions
For this year's celebrations, previously ticketed vantage points that will now be free and non-ticketed include Dawes Point Park, Hickson Rd Reserve, Campbells Cove, West Circular Quay and East Circular Quay. No chairs, umbrellas, tents, structures will be permitted in vantage points.
Check each vantage point to see when they open. Once each vantage point reaches capacity the site will be closed. We recommend coming in early to avoid delay. Follow The Rocks socials for live details..
No. Umbrellas over 50cm in length, tarps, tents, shade structures, tables, milk crates or chairs (other than low line beach chairs) are not allowed. All umbrellas should be lowered during the fireworks to enable clear views for other patrons. There shall be no pegging or other penetration to the turfed areas. 
Due to extensive road closures and high pedestrian traffic in the city, public transport is the easiest option to get to the event. There are additional trains, bus, light rail and ferry services available and transport hubs are within easy reach of this site. 
The closest train stations are: 
Wynyard Station 

Martin Place Station

Circular Quay Station (services will cease at 5pm)
It is recommended that you check your transport details at transportnsw.info or by calling 131 500 before travelling. For live traffic updates, please visit livetraffic.com.
For all the information specific to the above events, please follow our Twitter and / or Facebook on the night to keep up to date. 
Please consider the safety of other patrons. All patrons entering the site will be subject to a security bag check and must show valid identification and tickets. Restricted items will be confiscated and entry refused to any persons not complying with conditions of entry. 
The following items will not be allowed to be brought into the event site: 
No BYO beverages including alcohol and water (soft water bottles allowed) 

No glass 

No sparklers, party poppers or candles 

No large umbrellas or other shades structures 

For further conditions, refer to the terms and conditions
No. Cloaking services and/or lockers are not available. 
All vantage points are alcohol free zones.
Before attending the event, you may like to visit one of the many bars and pubs in The Rocks. 
Beverages brought to any vantage point will be confiscated at the bag check. Placemaking NSW reserves the right to confiscate any restricted items and/or refuse entry to any persons not complying with Conditions of Entry.
There are two fireworks displays on New Year's Eve – at
9pm - site access closes at 8.30pm
Midnight - site access closed at 11pm
If you are planning to come to one of our vantage points to see the fireworks, come early to avoid delay.
With over 100,000 people coming in to the celebrate the famous Sydney fireworks shows, it is expected that some delays will be experienced leaving site. The way you come into the precinct may not be the way you leave. Circular Quay Station will not be operating at peak times however signs will direct you to the nearest train stations, which will be Wynard and Town Hall. For all scheduling enquiries, please go to: https://www.sydneynewyearseve.com/public-transport/
Stay up to date
Get the best of The Rocks straight to your inbox.