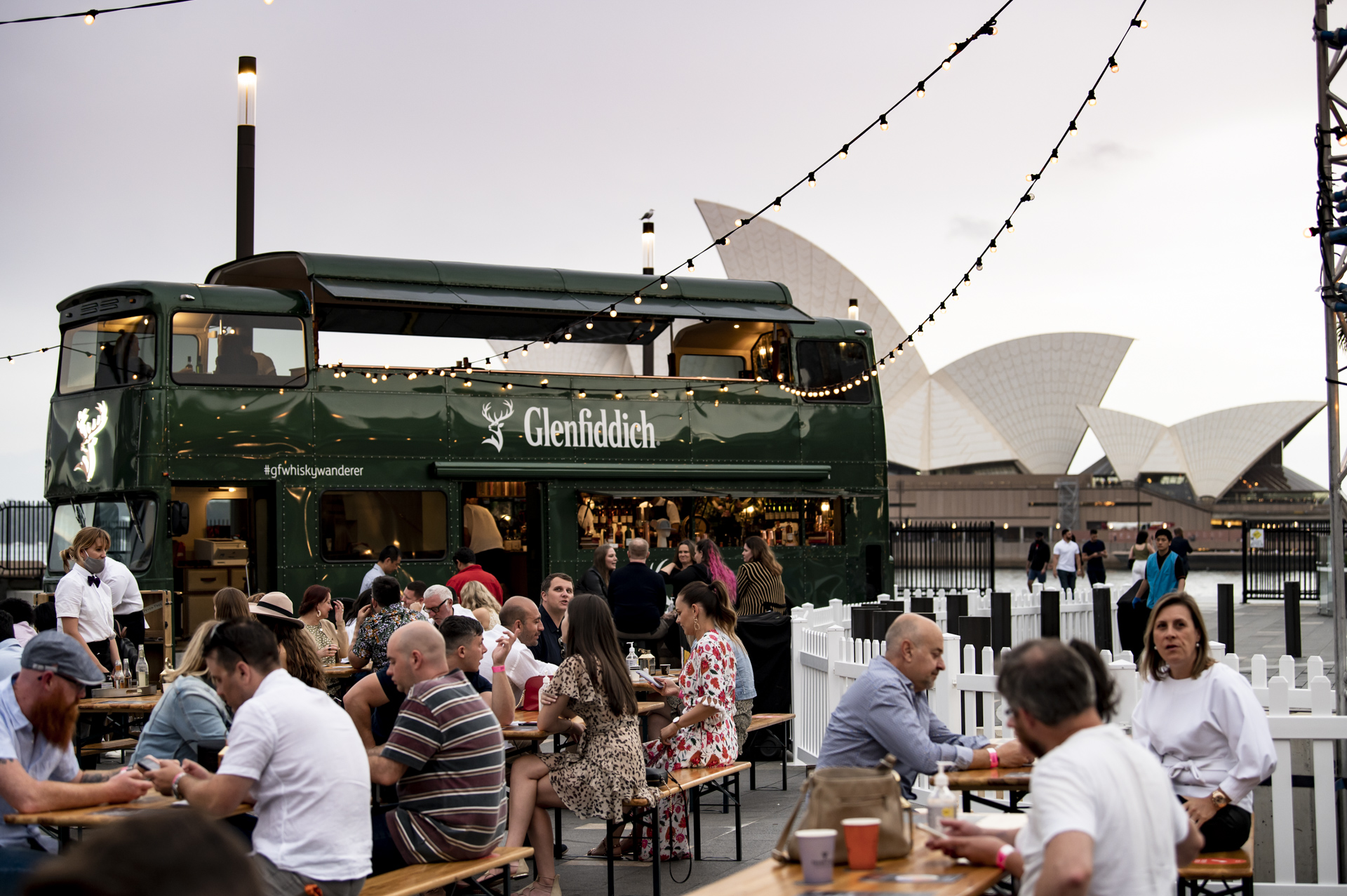 SIP. SAVOUR. EXPLORE.
Whisk(e)y on The Rocks
Whisky aficionados rolled up their crew to experience an immersive whisky adventure like no other!
Whisk(e)y on The Rocks brought together the world's leading Whisky innovators, producers, storytellers and experiences for an immersive 4 day roaming festival throughout The Rocks. 

Visitors discovered craft, innovative and iconic distillers and whiskies of every flavour from around the world, and experienced a giant spinning cocktail shaker on wheels, indulged with freshly shucked oysters and delicious whisky pairings. This festival had something for first-time sippers and cocktail lovers, right through to long-time Whisky enthusiasts, focusing on discovery, good times, and shared experiences.
Tickets
Tickets are $35 + Booking fee, which includes 9 tokens that are redeemable for a vast selection of brand samples across the festival. And yes, you can use your Discover NSW vouchers.
Explore Whisk(e)y on The Rocks Festival Zones
First Fleet Park
Is the perfect place to sit back and discover an array of high quality and next generation whisky experiences, whilst enjoying panoramic harbour views, tunes and harbour views.
Campbell's Cove
Campell's Cove near the base of the Sydney Harbour Bridge has been transformed into Whisky Cove. Discover two iconic whisky brand experiences and relax and enjoy the vibe as you look out over the Sydney Opera House, Sydney Harbour and the iconic bridge!
Johnnie Walker Highball Food Truck
Coming to Sydney for the first time, the Johnnie Highball Food Truck is a whisky experience like no other! Enjoy Johnnie's signature Highball paired to perfection with a range of mouth-watering bites for the ultimate harbourside aperitivo. With a curated selection of snacks matched with the Johnnie Highballs, visitors can enjoy the perfect pairings whilst listening to smooth beats, taking in crisp sunshine and enjoying Sydney harbour views.
Talisker Boat House
Talisker is the Isle of Skye's oldest distillery, located on the rugged, windswept shores in West Scotland. The Talisker Boat House is a unique experience that will immerse visitors into the rugged world of Talisker. Step inside the Boat House to hear the crashing waves on the Skye coastline, indulge in freshly shucked oysters and find inviting spaces to disconnect from the pressures of daily life. Enjoy a dram from the range of powerhouse single malts - raw yet refined, Talisker whiskies are united by an unmistakable sweet peppery smoke, while hits of maritime notes remind you this is a whisky Made By The Sea.
Playfair Street
Bring your crew and nestle in to Sip Street and experience two of the world's best things combined; Whisky and Coffee.
Mr Black Coffee Cocktail Carnival
Need a post-whisky pick-me-up? Mr Black has you covered with their luscious brand of cold brew coffee liquor, handmade in small batches at their distillery just north of Sydney. Visit the coffee cocktail carnival where coffee and whisky will meet in a uniquely delicious way. Visitors will get to sample the delicious Mr Black cocktails made by the team from Maybe Sammy while also having the chance to take home iconic Mr Black Coffee Liquor to whip up a cocktail of their own at home!
Explore the Rocks Whisky Trail
Outside of your 2.5 hours within the ticketed areas, you can keep the good times rolling by joining The Rocks Whisky Trail and sip, taste and explore your way through some of Sydney's best bars, pubs and restaurants. 

You can explore in any order you may like, as many times as you would like over the four days!

Whether you're after a whisky neat or on the rocks, matched with a refreshing ale or seeking an incredible cocktail - our mixologists and whisky experts will be pouring the best of the best. From whisky paired cocktail and food experiences, boiler-makers, through to hidden pop-up bars and spaces and VIP Tastings … no two Whisky Trail adventures are the same.
Frequently Asked Questions
It's easy to get to The Rocks as it's just a hop, skip and jump from Sydney's CBD. See all the transport options here
Once you arrive at The Rocks, you can check in at the ticket booth located on George Street – opposite Globe Street. This will be open 2 hours prior to your session time - we advise heading in early to ensure you make the most of your ticketed session. You will need to show your ticket and ID before receiving your colour coded wristband, festival map and 8 sample token card. You will then have 2.5 hours to explore all the festival zones, which will commence at the start of the session time. Please be aware that bars will close 15 mins before end of the session.  
The 9 tokens will get you 9 samples of whisky (15ml of Whisky per sample) from the participating brands for the festival. These will come in a variety of straight, mixed or cocktail serves. You will be able to redeem these samples as you enter each Brand's festival zone plus some special ofers at venues on The Whisky Trail.
You will only be able to redeem one token per brand. You will also be able to purchase a range of full sized beverages of your choice. There will also be a large range of full size beverages available on The Rocks Whisky Trail, where a variety of pop-up activity and experiences will be taking place in venues throughout The Rocks over the four days.
Whisk(e)y on The Rocks is an outdoor event. As limited shelter will be available at the outdoor festival zones, we recommend attendees come prepared for the weather conditions (including umbrellas or raincoats for rainy weather).  
Due to Covid-19 and to keep our attendees safe, we have a strict limit on how many people can be in the festival zones at any one time. This is monitored through ticket sales, the check-in process, and colour coded wrist bands per session timing. If you want to enter the ticketed festival zones you will need to purchase a ticket.    
Tickets will be available for purchase on the Humanitix website, We do expect ticket allocations to be exhausted prior to the festival commencing on 28 April. So it's best to buy your tickets sooner to avoid disappointment.
This event has a no refund policy.
Within the ticketed festival zones (your 2.5 hour session) it will be only whisky served in a variety of forms including straight, mixed or cocktails. However all venues participating in The Rocks Whisky Trail and around the precinct will have a variety of spirits, wine and beer available for purchase pre or post your 2.5 hour session.  
Within the ticketed festival zones, this is a strictly 18+ event.  
This is an 18+ only event. ID will be asked upon entry. If you are under 18 your ticket will be forfeited and not subject to a refund.
 
Whisk(e)y on The Rocks is an exciting move for Sydneysiders as the city begins to re-open, continuing support for those venues heavily impacted by the effects of the global pandemic. The festival will adhere to COVID19 protocols as mandated by the New South Wales government. All consumers can use the  COVID check-in and will be encouraged to practice social distancing while enjoying the festival.  We ask that any ticket holders please stay home if they have any COVID-19 symptoms, including sudden loss of taste or smell and/or fever.
The part of the festival is open for anyone to partake. There are no tickets required to enjoy the trail, however ticketholders are encourgae to extend their whisky experience  by joining The Rocks Whisky Trail to sip, savour and explore their way through some of Sydney's best bars, pubs and restaurants.
Soak up the iconic views, laneways, nooks and crannies of The Rocks and experience the dozens of unique Venue and Brand collaborations and offerings. There will be private tasting events with guest International and Local Distillers, master classes with Brand Ambassadors and an incredible array of whiskies, food and cocktails to discover.
You are free to explore the trail throughout the festival as many times as you like. The Whisky Trail venues will be featured on the Festival Map. 
If you spot a special ticketed exclusive Whisky Trail event that you would like to attend make sure you buy a ticket  as these are special and will sell out quickly.
There is plenty to eat, shop and see in The Rocks so we encourage attendees to plan a whole day for their Whisk(e)y On The Rocks experience.  In addition to the 2.5hr ticketed session, we recommend a few hours to explore The Rocks Whisky Trail. Or make the most of your day and book a lunch before your session, visit the myriad of shops, check out The Rocks Markets and don't forget to keep an eye out for outdoor performers throughout The Rocks who keep create a fabulous vibe.
The Rocks is a dog friendly precinct, however we recommend that you do not bring any dogs to the festival unless they are for assistance.
Whisk(e)y on The Rocks is proudly supported by


Whisk(e)y on The Rocks 2020 Festival Highlights
Stay up to date
Get the best of The Rocks straight to your inbox.